---
---
Branch Anniversaries & Awards
---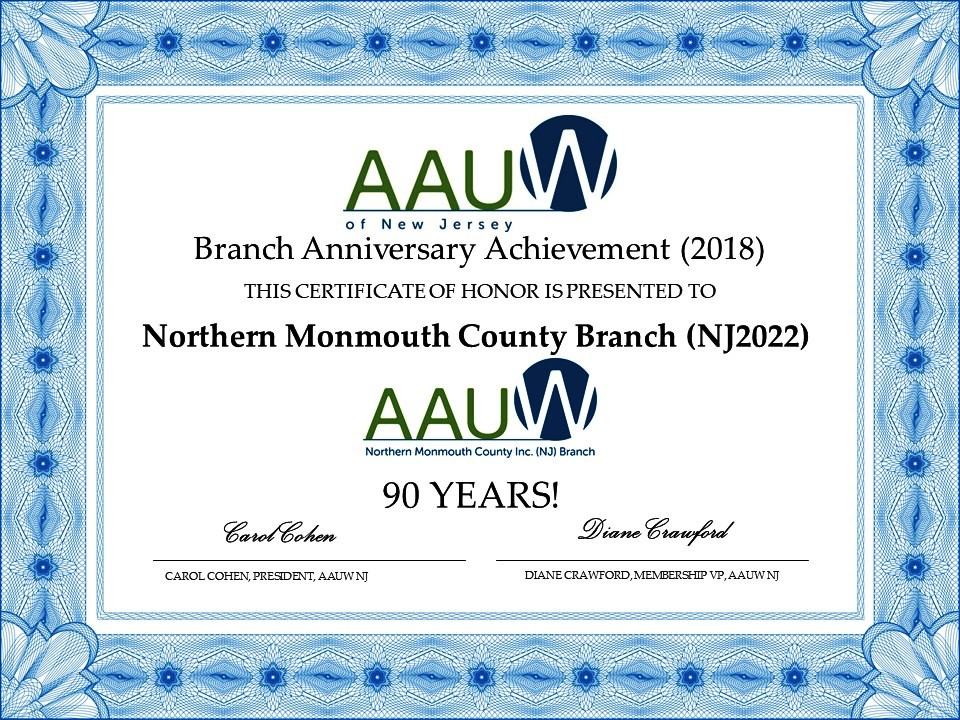 ---
---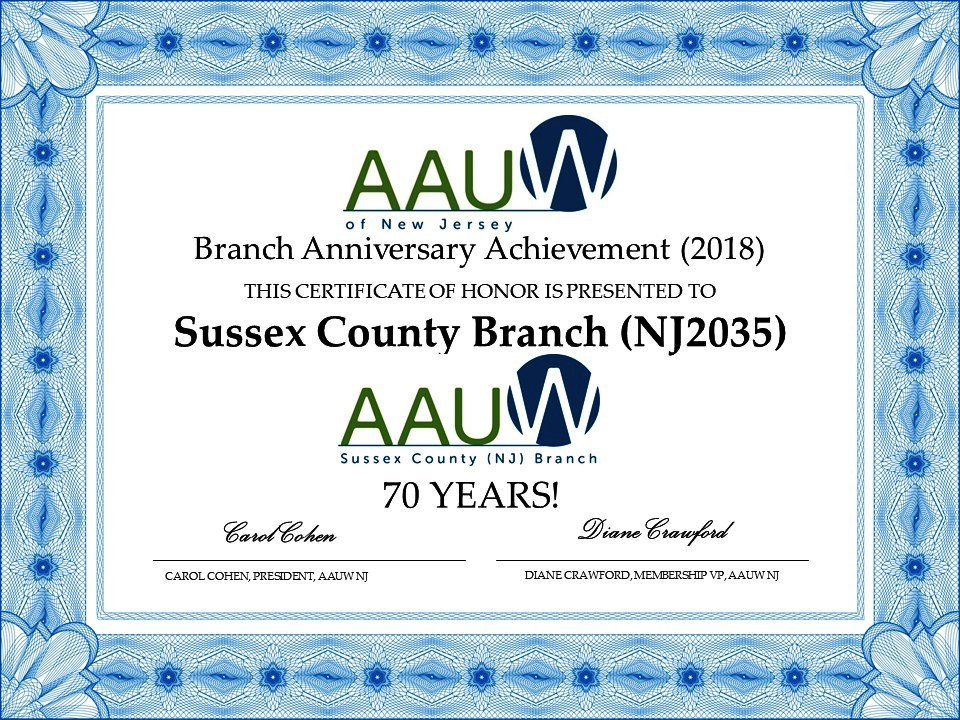 ---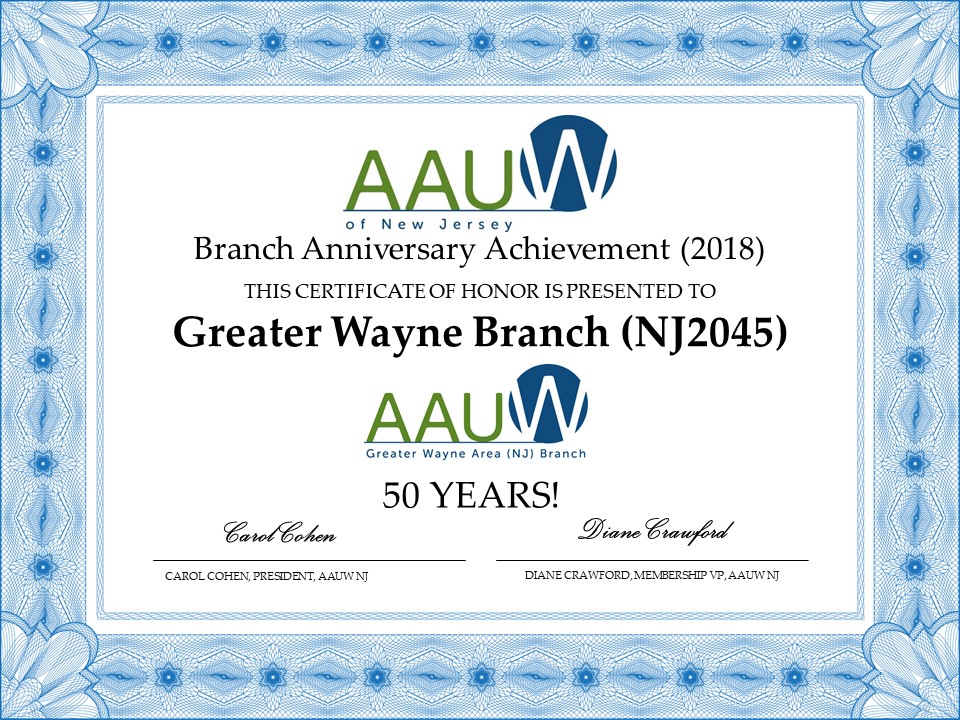 ---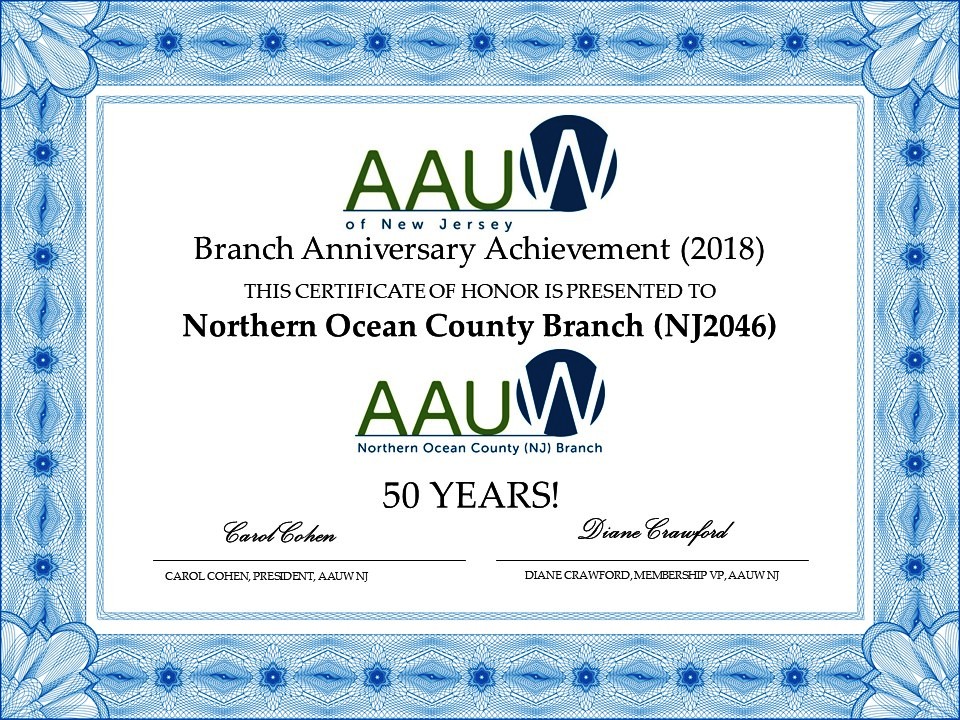 ---
November 4, 2017
Celebrating the Atlantic County Branch's 100th Anniversary
Honoring Suffragettes and All Women Working for a More Equitable Society.See Pictures!
---
June 9, 2017
AAUW NJ – Northern Monmouth County Branch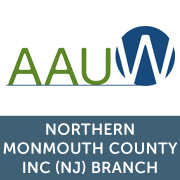 Receives Founders Award from Brookdale Community College
On June 9, 2017, the Northern Monmouth County Branch (NMCB) (NJ) of AAUW was honored with a Founders' Award at the Brookdale Community College (BCC) Foundation Scholarship Golden Jubilee Ball.  The ball was held at the Eagle Oaks Golf & Country Club, Farmingdale, NJ. Read More
A history of the founding of Brookdale Community College was written by members of NMCB to celebrate the tenth anniversary of the founding.  The College has just published a third edition of that history, A Triangle of Land.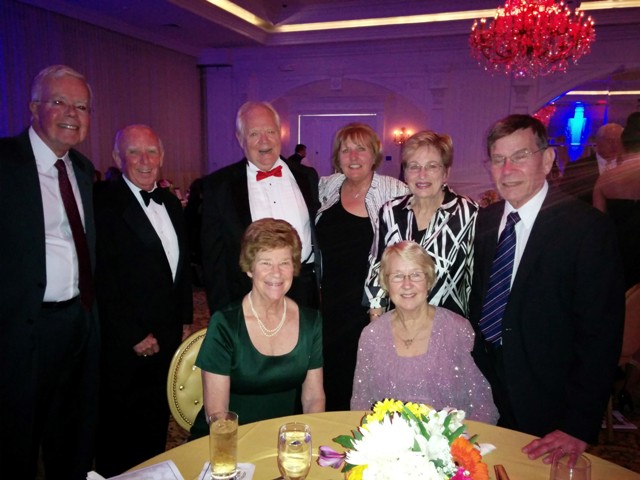 Seated, left-Mary Lea Burden, outgoing co-president; Pat Miller, incoming co-president; Standing, second from right-Nancy Butler, incoming co-president and Karen Topham, outgoing co-president (and husbands)
Karen and Mary Lea were among the honorees who were interviewed by BCC Television in advance of the Ball.  That interview is available on YouTube
---
Sept. 23, 2016
Mt. Lakes Branch was recognized on their 70th anniversary by AAUW National. They celebrated this at their Open House on Sept. 23, 2016 with a program highlighting their conception from the 1920's as a College Club to today as a member branch of AAUW.  Quite a long and interesting history.
The Chorale practices throughout the year under the incredible direction of Gloria Diamond with assistance from Christina Jonas. They perform for community groups and have also been featured at AAUW Mountain Lakes Area Branch Meetings,
Lyrics to Maids with a Point of View
Performed by the AAUW Mt. Lakes Area Branch Chorale under the directions of Gloria Diamond
---
See Branch Highlights (Newest)