Mission: The AAUW Education Foundation provides funds to advance education, research, and self-development for women and to foster equity and positive societal change.
The Educational Foundation is one of the largest sources of funding for graduate women. Both in the U.S. and globally, EF has a long history of advancing educational and professional opportunities for women. Examples of these awards are:
American, International, and Selected Professions Fellowships
Career Development Grants
Community Action Grants
Eleanor Roosevelt Awards
Achievement and Distinguished Senior Scholar Awards
Recognition Award for Emerging Scholars
Scholars-in-Residences Awards
The selection process is competitive.
Specific information on the awards can be found at https://www.aauw.org/what-we-do/educational-funding-and-awards/.
Advancing Their Education, Serving Their Communities:
AAUW 2016–17 Fellows and Grantees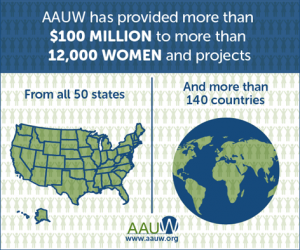 Over the past century, AAUW's fellowships and grants program has provided over $100 million to more than 12,000 women and projects serving women and girls from 140 countries. Today, that legacy is continuing with the announcement of our 2015–16 AAUW fellows and grantees.
---
Fellowships and Grants Sponsored