(HIGHLIGHTS)
2018
2018 National Bylaws Amendment Voting Results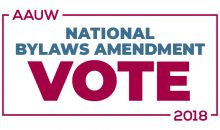 2018 AAUW National Bylaws Amendment Vote Results
We had a great turnout this year with over 17 percent of eligible members participating in the vote, more than three times the 5 percent required by our bylaws.
---
2017
January 21, 2017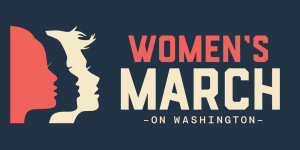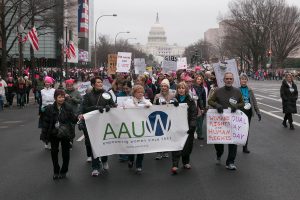 This January, millions of people worldwide and over a half million in Washington, D.C., marched together in support of women's rights and other issues. AAUW staff, members, and supporters attended the march across the country to make their voices heard in the fight for the gender equity through chants and signs.  Continue Reading …
(on Facebook)
WMW_Guiding Vision & Definition of Principles
"We did it! On January 21, over 5 Million of us worldwide and over 1 Million in D.C., came to march, speak and make our voices heard.
But it doesn't end here – now is not the time to hang up our marching shoes – it's time to get our friends, family and community together and make history. That's why we're launching a new campaign: 10 Actions for the first 100 Days.
Every 10 days we will take action on an issue we all care about, starting today."    Women's March
---
June 14 -17, 2017
The 2017 AAUW National Convention was a blast!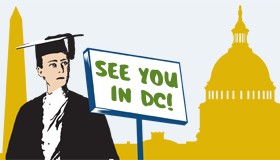 ---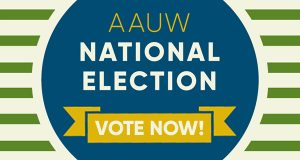 ---
June 28, 2017
It was a hot June day in 1989 when hundreds of AAUW members braved the heat and flooded the halls of Capitol Hill. They were there to tell members of Congress why the United States needed a paid family leave program. 28 years later, we're at it again! Read more.
---
Women's Equality Day (August 26)
Full Equity in Higher Education Remains Elusive
Women's Equality Day, celebrated on August 26, marks the anniversary of the passage of
the Nineteenth Amendment, which granted women the right to vote. One battle we are still
waging is for women in education. AAUW estimates that due to disproportionate student loan
burden and a longer debt repayment period, women currently hold almost two-thirds
of student debt in the United States. Read more.
---
AAUW's accomplishments in 2016
AAUW's achievements IN 2016:
200,000+ messages went out to state and federal legislators.
6 states passed new equal pay laws in 2016.
714 resource guides were delivered to Title IX coordinators in 29 states.
2,200 signatures collected on AAUW's petition urging Anheuser-Busch to sign the White House Equal Pay Pledge.
44 years of Title IX celebrated with Senator Harry Reid.
900+ get-out-the-vote events organized by members in 46 states.
19 AAUW members were elected to state legislatures.
12,000 young women and girls were empowered through AAUW's leadership programs.
11,460 women learned to ask for the salary they deserve through AAUW salary workshop negotiation
---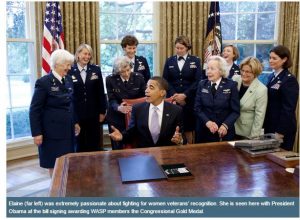 May 24, 2016
"She was passionate and not afraid to do anything. This is a woman who went bungee jumping at 75 because they offered free jumps to senior citizens." read more
---
Gosset v. Lasch, Cooper, Alfred E. Mann Institute for Biomedical Engineering, University of Southern California: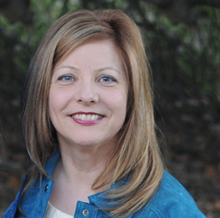 Nathalie Gosset, a senior director at Alfred E. Mann Institute at the University of Southern California alleges that she experienced sexual harassment by her supervisor and faced retaliation and termination from the job after she reported the behavior. She also lost full four-year scholarship awarded to her daughter by the university through its tuition exchange program.
Sexual harassment is a form of sex discrimination that violates the Federal law Title VII of the Civil Rights Act of 1964. The law prohibits employers from discriminating against employees on the basis of sex, race, color, national origin, and religion
---

---
AAUW National Convention
San Diego, CA
June 18–21, 2015
By: Michelle J. Douglass, Esq., Public Policy Chair,
AAUW-NJ, Atlantic County Branch; NJ Tech Trek Director
---
Live Stream AAUW's Solving the Equation Launch (See Archive Recording)!
AAUW's latest research report on women in STEM, Solving the Equation: The Variables for Women's Success in Engineering and Computing, was released on March 26, 2015, with an event and panel discussion at Samsung's new research headquarters in Silicon Valley.  Watch the archive recording.

---