AAUW of New Jersey President
Karen Brown
---
March 2021
First of all, I want to celebrate a successful beginning – congratulations and thanks are in order for our Program Vice President, Jackie McGuinness, and our Diversity and Inclusion Chair, Edwina Sessons, for their very helpful, interactive presentation about how to have difficult conversations about racism. They were most generous in sharing their experiences and in facilitating conversations among the attendees at the February 27th workshop: "Difficult Conversations: How to Talk About Race." If you missed this first opportunity, don't worry, we look forward to the conversation being carried on in our branches in the coming months.
Our work to become a more inclusive organization will continue this month with another discussion among our members, this time about allowing anyone who wants to join AAUW to be allowed to join. Personally, I feel that dropping the degree requirement for membership in AAUW is long overdue, and it is an embarrassment to have to turn away anyone who wants to work with us. I also recognize that there are opposing viewpoints about how open membership might affect our organization. I hope that everyone will attend our town hall and share their concerns, so that the strengths of our organization can be preserved. I truly believe that the opportunity to engage in informed discussions among members, and to disagree without enmity, is one of the greatest benefits of belonging to AAUW – it's how we learn from each other.
Let's spring forward together and build an AAUW for the future on the strong foundation built by our founding mothers!
Karen
---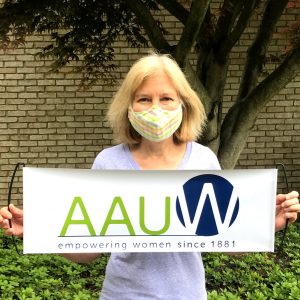 I hope this message finds you and your loved ones well.
The AAUW NJ board of directors has met several times this spring to figure out how we will move forward as a state affiliate in these challenging times. I really appreciate their openness to doing things differently, their willingness to work on solutions and their dedication to our mission.
In the spirit of trying to bring about positive change in changing times, AAUW of New Jersey has three events planned for June that we hope many of you will participate in:
Saturday, June 13, 10:30 A.M. – a webinar-style presentation of "A Feminist Perspective on COVID-19 and the Value of Care Work" by Yana Rodgers, PhD (Economics), Professor at the Rutgers University Center for Women and Work (Register Now)
"AAUW NJ Values Care Workers" – a state-wide project to demonstrate that AAUW members appreciate the essential care workers at long term care facilities (watch for more information soon), and
Saturday, June 27, 10:30 A.M. – a town hall style annual meeting of AAUW NJ members (Register Now)
Thanks to those who self-nominated, and to the impromptu nominating committee of Linda Harmon and Mary Graves, we have an almost-complete slate of officers for fiscal year 2021. They will report the slate soon, but what we really need now are two Nominating Committee members from each District for the 2021-2022 board. If you would like to serve on the Nominating Committee next year, please contact Mary, Linda, or your District Coordinator.
I highly recommend watching, if you haven't already, Kim Churches' "State of AAUW" message https://www.aauw.org/resources/member/initiatives/2020-convening/ for a view of how AAUW has evolved in 2020 and where it is heading in 2021. The new AAUW website includes this talk and many other interesting webinars as you scroll down the "Membership" page.
Stay safe, stay strong,
Karen Brown, AAUW NJ President
We in New Jersey have had an active fall-winter season and are looking forward to even more events this spring which will advance our mission of empowering women. As we commemorate the 100-year anniversary of the passing of the 19th amendment, we honor past women who fought for our rights. Let's honor their legacy by making our voices heard in the debates on today's issues, so that we can create a more just world.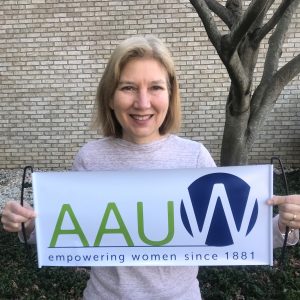 As you're visiting with friends and family over the holidays, keep in mind some ways you can support our mission of equity for women and girls.
---
Introduction at the 2019 AAUW NJ Annual Meeting
---
Presentation at the AAUW NJ Fall Focus Meeting 
(October 20, 2018)
---
See President's Message (Archive)
---