Atlantic Cape Hosts STEM Careers Event for Teen
Girls
June 2, 2016
From "CSI Atlantic Cape" to "The Real Grey's Anatomy," nearly 70 visiting high school students spent a full day in hands-on, science-based workshops during the first teentech event at Atlantic Cape Community College June 2.
The event, sponsored by the AAUW, South Jersey Gas and the Atlantic Cape Community College Foundation, was aimed at encouraging young women in grades 9-11 to further their education in Science, Technology, Engineering and Math. Jobs in the STEM fields are among the fastest growing, and generally have higher salaries than jobs traditionally held by women. (Read More)
See article in Press of Atlantic City!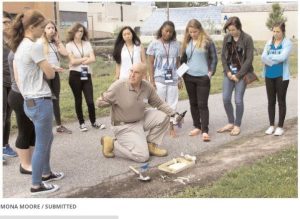 About 65 girls from seven high schools in Atlantic and Cape May counties participated in Teentech 2016, a daylong program sponsored by the Atlantic and Cape May County chapters of the American Association of University Women, a national organization whose primary mission is education for women and girls. The program at Atlantic Cape Community College in Mays Landing was designed for girls interested in STEM-related careers in science, technology, engineering and math. The hands-on workshops included crime-scene investigation, TV production, drones, 3D printing, engineering, the science of cooking and medical training.