Click on Headings (and sub-headings) or use the Sidebar for quick LINKS!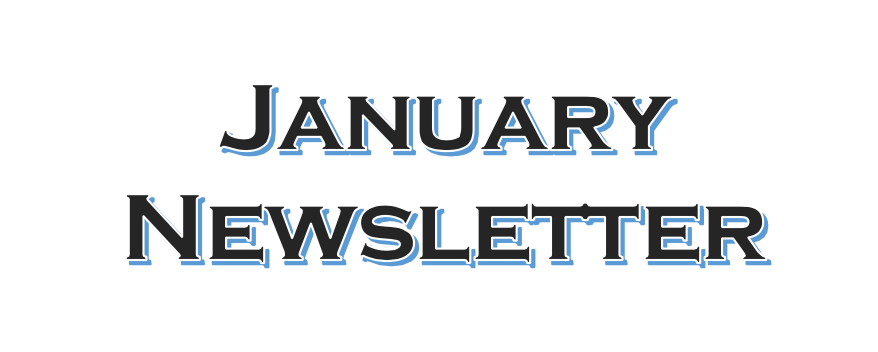 ---
Thanks to Dr. Burk and Attendees!
---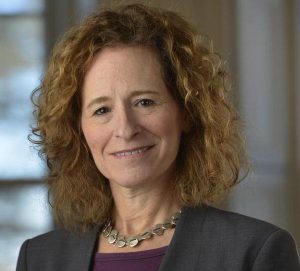 Jacquelyn Litt joined Rutgers University in 2010 to serve as Dean of Douglass Residential College and the Douglass Campus. Dr. Litt has a distinguished record of scholarship, teaching, and administrative service that focuses on women's issues.  In addition to serving as the Dean of Douglass Residential College and the Douglass Campus, she is Professor of Sociology and Women's and Gender Studies at Rutgers University-New Brunswick. Litt received her Ph.D. in sociology from the University of Pennsylvania.  Prior to coming to Rutgers, she was founding chair of Women's and Gender Studies at the University of Missouri. Prior to her tenure at Missouri, Litt directed Women's Studies programs at Iowa State University and Allegheny College. At Iowa State, Professor Litt earned the Distinguished Faculty Award from the Iowa chapter of the American Association of University Women for exemplary contributions toward gender equity in education. She also received Iowa State's Early Excellence in Teaching and Master Teacher in Multicultural Education awards.
She has expertise in women in STEM, was a P.I. and consultant for the ADVANCE program to advance women in STEM at the National Science Foundation and a grant reviewer for innovative STEM pedagogy projects at the Association of American Colleges and Universities. She is the author of two books and numerous articles. She received the "Leaders in Faculty Diversity" in 2016 from The Committee to Advance Our Common Purpose at Rutgers University in recognition of her outstanding leadership in building new opportunities for students at Douglass to share diverse perspectives in a safe and inclusive environment. Litt was honored in 2016 with a Joint Legislative Resolution from the Senate and General Assembly of the State of New Jersey, honoring her leadership of Douglass Residential College and her research on women's issues that have made a positive impact on the lives of women and children.
---
Mail-in-Balloting
AAUW is committed to open and fair elections, nonpartisan voter education efforts that will promote equitable political participation and representation in appointed and elected office, and the expansion of voting rights.
Evelynn (Lynn) Caterson, a 50-year member of AAUW  is the Chair of the Atlantic County Board of Elections.  She saw many issues with the balloting process in the Atlantic County Primary Election.  In an effort to prevent such problems in the General Election, she wrote to the Governor and Secretary of State, asking them to use their authority to remedy these issues.  That letter is "MIB Letter to Gov Murphy 7 31 2020."
If you are concerned about the mail-in-balloting (MIB) process, please read Evelynn Caterson's letter, and share it with your county election board chair and state representatives.
---
AAUW of New Jersey Calls on Our Members to Combat Racism
AAUW is a national organization with a civil rights mission to advocate for equality, individual rights, and social justice for a diverse society.
AAUW of New Jersey grieves for the family of George Floyd and recognizes that his killing and the subsequent protests reflect a long history of Black communities being traumatized by systemic racism.
We call on our members to educate themselves about the history and causes of all types of prejudices, because unequal treatment of one group sheds light on all inequality. Then we must facilitate the difficult discussions that are necessary to advocate for change in what our society views as acceptable.
We will work with other organizations to respond not just to this event, but to address the underlying causes of the injustice that exist in the status quo, because we are all part of "the system,"  and the vision of AAUW is equity for all.
We call on the leaders in all three branches of government to examine the current institutions, address the causes of injustice, and make proposals for change.
We, as responsible citizens, need to remember the actions of our elected officials and candidates and use that knowledge to vote for change toward a more just society.
Karen Brown, President, AAUW of New Jersey
---
---
AAUW of NJ Thanks Governor Murphy, Lt. Governor Oliver, Senator Weinberg, and Assemblywoman Huttle for taking a strong stand in support of women's equity and making NJ a good example for the rest of the country.
Karen Brown, President, AAUW of New Jersey
---

AAUW members, branches and states are making use of tech tools — such as Zoom, conference calls, instant messaging and other platforms — to stay connected, having virtual meetings and conversations. See the AAUW National website for insights from a few their affiliate leaders about how they're staying connected during this challenging time.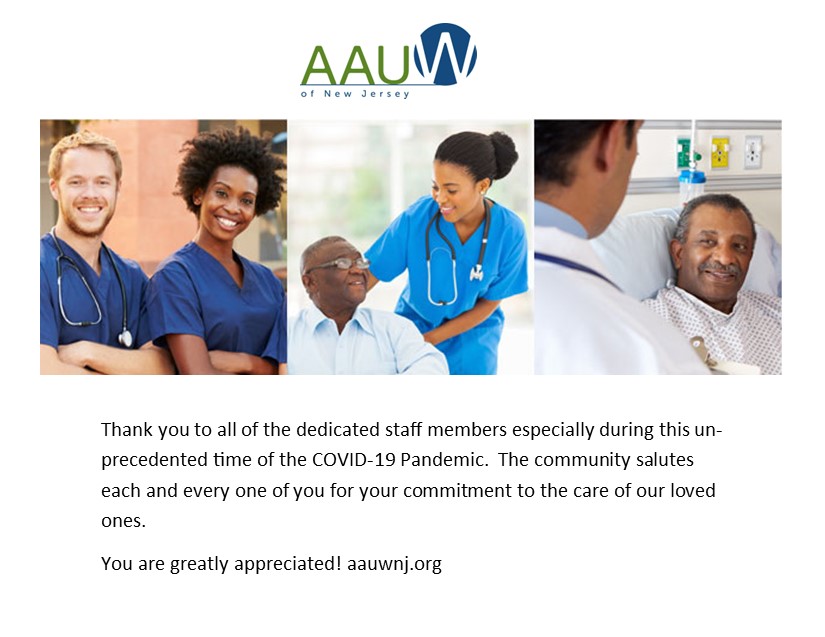 AAUW NJ Values Care Workers – Even when there isn't a pandemic, we know that the gender pay gap is large for the essential front line workers who care for those who can't care for themselves – workers who are almost all women. A recognition project is being planned for the week of June 22 to thank the staff of long term care facilities (LTCF) and let folks know that AAUW is  working for fair pay.  Stay tuned for more information!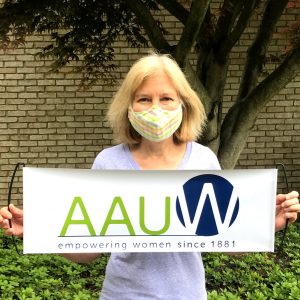 ---
Our first Zoom Meeting on Jun 13, 2020 – Was a huge success!
Yana Rodgers, PhD, Professor at Rutgers Center for Women and Work, presented:
"A Feminist Perspective on COVID‐19 and the Value of Care Work" 
---
Thanks to the Speakers and Attendees!
June 27, 2020
10:30 – 11:30 AM Eastern Time (US and Canada) 
Via Zoom!
A town hall meeting of the members of AAUW NJ to connect and share accomplishments from the past year and look forward to the year to come. 
---
Thanks to the Speakers and Attendees!
Oct 10, 2020 – 10:00 – 11:30 AM
Fall Focus
"Let's Get Engaged"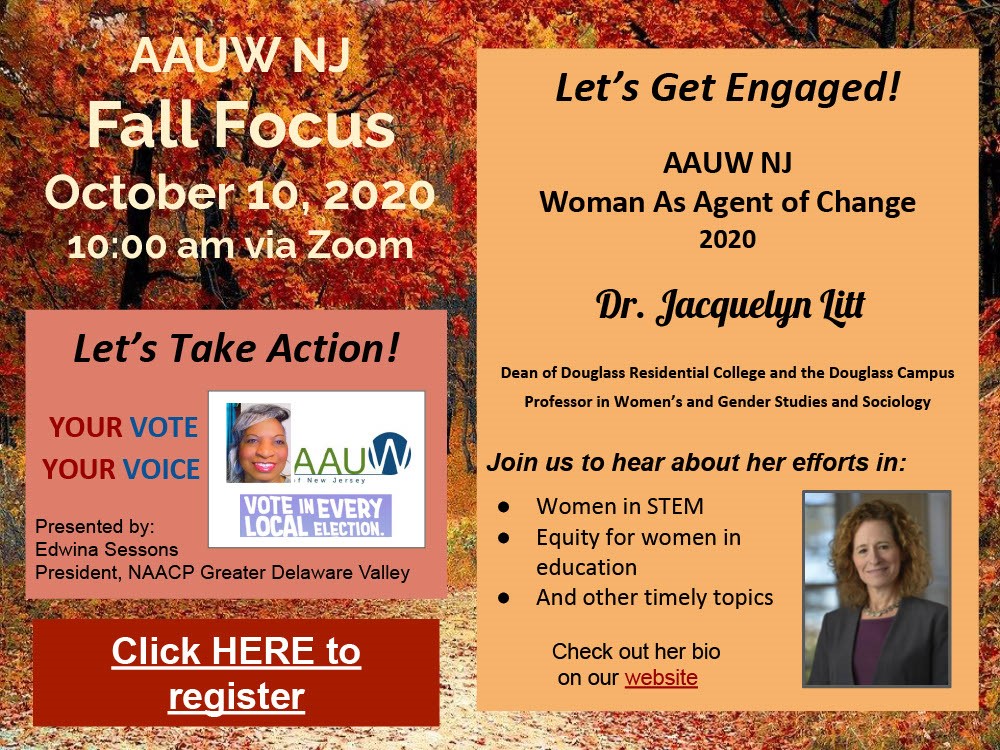 ---
---
POSTPONED until July 18 – 24, 2021
---
February 14, 2020
Pictured left to right: Jacqueline McGuinness, Karen Brown, Nancy Butler, Rosie Driscoll in Senator Menendez's Newark office.
AAUW NJ members Karen Brown, president; Jacqueline McGuinness, secretary;  and Nancy Butler, past president, met with Rosie Driscoll, Senator Menendez's Outreach Specialist for women's issues, to discuss AAUW's priorities and exchange ideas for supporting each other in our work towards equity for all.  AAUW NJ shared information on the availability of AAUW research and extended invitations to our upcoming events. Ms. Driscoll asked that we be sure to let the senator's office know of situations encountered in New Jersey that seem to be discriminatory. Also, she stressed the importance of contacting elected officials in support of their positions, not only when we have an objection – this allows them to better respond to critics.
---
November 25, 2019
Supporting Title X with Planned Parenthood at the Statehouse in Trenton
The bill to replace funding for family planning services passed (voting along party lines)! Funds will be distributed by NJ Commissioner of Health to agencies that lost funding due to not conforming to the Title X gag rule (which prevents providers from even discussing all of a patient's health care options, including abortion). Funds still can not be used to provide abortions. 👍😀
---
September 19-20, 2019
AAUW NJ Goes to Seneca Falls, New York
---
June 30, 2019
AAUW NJ at ERA Day at Alice Paul Institute
---

Have already trained over 100,000 women online!
---
Congratulations to branches with the most growth last year!
---
(held in 3 Locations)
---
AAUW of New Jersey, a state-level organization of AAUW, founded in 1927, sponsors statewide events.  Local branches actively further national and community goals and capitalize on their networking opportunities.  AAUW Members often choose to belong to one or more local branches.  Joining one of the local NJ branches includes membership in the AAUW of New Jersey state organization.  Individuals who do not wish to join a NJ local branch can join by selecting "Garden State Branch" (our virtual Branch), when joining AAUW.
Please join a local NJ branch or the Garden State (Virtual) Branch and our mailing list, in order to receive emails.
We communicate with our members via the Presidents Message, AAUW NJ News, NJ Events, "Special Projects", and Public Policy pages.  We also connect with others on Facebook and via Constant Contact emails.
Our NJ state publication, The Garden Statement, which reported regularly on AAUW-NJ participation in public policy, the Educational Opportunities Fund, the Legal Advocacy Fund, and state and local issues, has been retired, being replaced with the other methods of communication.
AAUW of New Jersey has established The AAUW NJ Charitable Trust, which supports branches across the state, as they work to advance equity and to promote educational opportunities for women and girls.  Donations to the Charitable Trust come from bequests and from individuals, AAUW branches, businesses and institutions. Donations are tax deductible to the extent permitted by law.  
Donations to the Charitable Trust can now be made online!
Since we support AAUW National's mission, we have web pages that share highlights of the volumes of materials available, under the National tab, including AAUW in the News, Leadership, Economic Security, STEM, and Title IX
There are also pages for AAUW Fundraising, Legal Advocacy Fund, Education & Training, Aand links for AAUW Members Only
AAUW NJ Highlights include:
Raising more than $100,000 annually for the Foundation and the Legal Advocacy Fund
Scholarships awards to New Jersey women
Advisors to the State Department of Education on gender bias and equity issue
Working in coalition on state issues affecting women and girls
Lobbies for formation and continuance of county commissions on women and for economic equity
Sponsor of voter registration drives and candidate forums
Community projects for literacy, pre-school ed., child care, and nutrition for pregnant teenagers
Initiate and monitor state legislation, like the New Jersey Council on Environmental Quality
---
For general inquiries, please email us.  For specific inquiries, please contact our State Leadership contacts.
---
Visit our "AAUW NJ News" Page to see the impact of our organization!
We also have many Special Projects that our Members "work" on:
---