MISSION: To advance gender equity for women and girls through research, education, and advocacy.
VISION: Equity for all.
VALUES: Nonpartisan. Fact-based. Integrity. Inclusion and Intersectionality.
AAUW DIVERSITY STATEMENT: In principle and practice, AAUW values and seeks a diverse membership. There shall be no barriers to full participation in this organization on the basis of sex, gender identity, race, creed, age, sexual orientation, national origin, disability, or class.
Click on Headings (and sub-headings) or use the Sidebar for quick LINKS!
---

December unConference
Wednesday, December 9th         7pm via Zoom
Join us for a casual Zoom chat with members statewide to exchange ideas over your favorite beverage or snack.
This is an excellent opportunity to connect with AAUW members across the state, where we talk about what is most important to us. How does AAUW NJ stay relevant? How do we move from words to action? Member engagement, networking, fundraising, growing our membership, advocacy… what matters to you?
---
Celebrating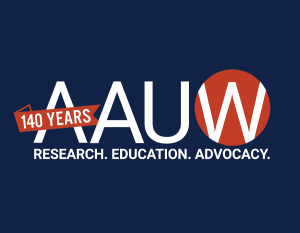 140 years of AAUW
In November, AAUW celebrated its 140th anniversary. During these 140 years, AAUW has evolved to become the leading voice in advancing gender equity in education and workplaces everywhere. Through research, education and advocacy, we're committed to ensuring that everyone gets the same opportunity to learn, earn and lead. Our programs aim at moving women forward—and we fight for policies that support our goals.
Our 2021 AAUW Alumnae Recognition awardee is Dr. Ngozi Okonjo-Iweala, Director-General of the World Trade Organization and one of Time magazine's 100 most influential people of 2021. Hear her AAUW story and more… Visit the 140th Year anniversary hub:
https://www.aauw.org/resources/member/initiatives/140-anniversary/
---
Strength of Women Through Networking

Wednesday, November 10, 2021
---
Fall Focus 2021: The Strength of Women

Saturday, October 2, 2021
---

Congresswoman Mikie Sherrill 
New Jersey's 11th Congressional District
The American Association of University Women of New Jersey named Congresswoman Mikie Sherrill of New Jersey's 11th U.S. Congressional District the Woman as Agent of Change for the year 2021.
The AAUW NJ Woman as Agent of Change Award is granted annually to a New Jersey woman who: worked to assist women in their endeavors to reach their true potential; demonstrated leadership in supporting the empowerment of women; and continues to strive to reform political, economic, or social areas to support women.
Congresswoman Sherrill is deserving of this award because of her many successes as a female leader, particularly in male dominated professions. She was a U.S. Navy helicopter pilot serving almost 10 years of active duty in Europe and the Middle East.  Later, she earned her law degree, worked for the U.S. Attorney's Office in New Jersey as an Outreach and Reentry Coordinator, and then became an Assistant U.S. District Prosecutor.
Mikie Sherrill won election to the U.S. House of Representatives in 2018. As a mother raising four children in New Jersey, she is a strong voice in Congress for New Jersey's families. As a freshman Congresswoman, she has introduced eleven pieces of legislation and she serves on the House Armed Services Committee, the Science, Space, and Technology Committee, and the Education and Labor Committee. She has promoted equity for women in the military and women veterans through the creation of the Servicewomen and Women Veterans Caucus.
AAUW NJ presented the Woman as Agent of Change 2021 award to Mike Sherrill at the Fall Focus meeting on Saturday, October 2, 2021.

Rally for Abortion Justice

Saturday, October 2, 2021
AAUW has always stood for a woman's right to autonomy – i.e. control of one's own body. AAUW partnered with more than 150 organizations to host the Rally for Abortion Justice on Saturday, October 2, 2021.  Women and allies gathered at more than 600 marches across the United States on Saturday in support of reproductive rights, with the largest rally in the nation's capital. AAUW-NJ members traveled to Washington and also participated in local marches.
Click here to see local marches
---
Post Pandemic Outlook for Working Women in NJ – Panel Discussion
Saturday, May 22, 2021 – 10 AM
---
Thanks to everyone that attended!
Saturday, April 17, 2021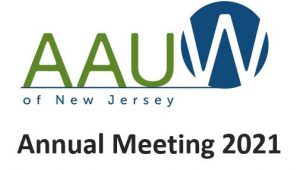 ---
---
AAUW of New Jersey Calls on Our Members to Combat Racism
Read statement from AAUW CEO Kimberly Churches
AAUW is a national organization with a civil rights mission to advocate for equality, individual rights, and social justice for a diverse society.
AAUW of New Jersey grieves for the family of George Floyd and recognizes that his killing and the subsequent protests reflect a long history of Black communities being traumatized by systemic racism.
We call on our members to educate themselves about the history and causes of all types of prejudices, because unequal treatment of one group sheds light on all inequality. Then we must facilitate the difficult discussions that are necessary to advocate for change in what our society views as acceptable.
We will work with other organizations to respond not just to this event, but to address the underlying causes of the injustice that exist in the status quo, because we are all part of "the system,"  and the vision of AAUW is equity for all.
We call on the leaders in all three branches of government to examine the current institutions, address the causes of injustice, and make proposals for change.
We, as responsible citizens, need to remember the actions of our elected officials and candidates and use that knowledge to vote for change toward a more just society.
Karen Brown, President, AAUW of New Jersey
---
AAUW of NJ Thanks Governor Murphy, Lt. Governor Oliver, Senator Weinberg, and Assemblywoman Huttle for taking a strong stand in support of women's equity and making NJ a good example for the rest of the country.
Karen Brown, President, AAUW of New Jersey
---

AAUW members, branches and states are making use of tech tools — such as Zoom, conference calls, instant messaging and other platforms — to stay connected, having virtual meetings and conversations. See the AAUW National website for insights from a few their affiliate leaders about how they're staying connected during this challenging time.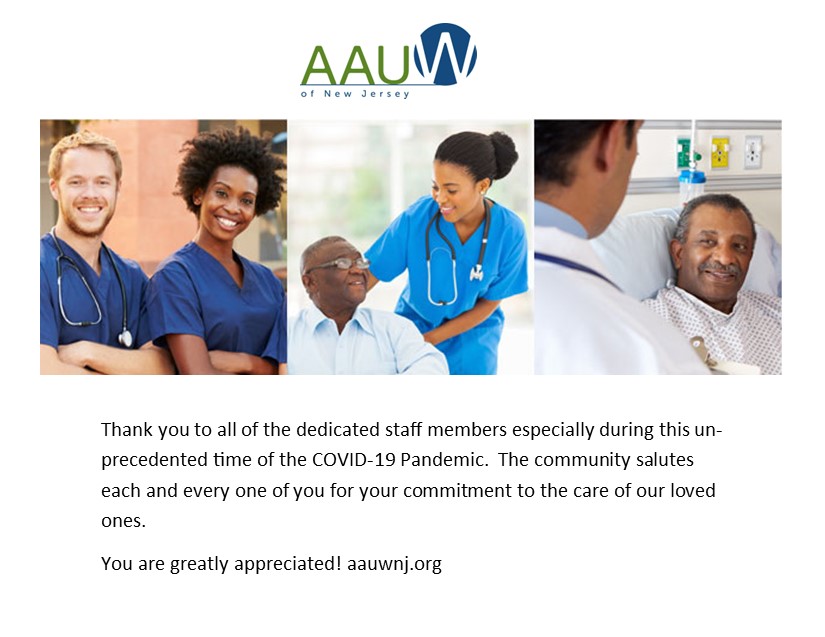 ---
POSTPONED until July 18 – 24, 2021
---

Have already trained over 100,000 women online!
---
---
AAUW of New Jersey a state-level organization of AAUW, founded in 1927, sponsors statewide events.  Local branches actively further national and community goals and capitalize on their networking opportunities.  AAUW Members often choose to belong to one or more local branches.  Joining one of the local NJ branches includes membership in the AAUW of New Jersey state organization.  Individuals who do not wish to join a NJ local branch can join by selecting "Garden State Branch" (our virtual Branch), when joining AAUW.
Please join a local NJ branch or the Garden State (Virtual) Branch and our mailing list, in order to receive emails.
We also connect with others on Facebook and via Constant Contact emails.
Our NJ state publication, The Garden Statement, which reported regularly on AAUW-NJ participation in public policy, the Educational Opportunities Fund, the Legal Advocacy Fund, and state and local issues, has been retired, being replaced with the other methods of communication, including a monthly newsletter, Facebook page, and LinkedIn Group
AAUW of New Jersey has established The AAUW NJ Charitable Trust, which supports branches across the state, as they work to advance equity and to promote educational opportunities for women and girls.  Donations to the Charitable Trust come from bequests and from individuals, AAUW branches, businesses and institutions. Donations are tax deductible to the extent permitted by law.  
Donations to the Charitable Trust can now be made online!
Since we support AAUW National's mission, we have web pages that share highlights of the volumes of materials available, under the AAUW NJ's National tab, including:
AAUW NJ Highlights include:
Raising more than $100,000 annually for the Foundation and the Legal Advocacy Fund
Scholarships awards to New Jersey women
Advisors to the State Department of Education on gender bias and equity issue
Working in coalition on state issues affecting women and girls
Lobbies for formation and continuance of county commissions on women and for economic equity
Sponsor of voter registration drives and candidate forums
Community projects for literacy, pre-school ed., child care, and nutrition for pregnant teenagers
Initiate and monitor state legislation, like the New Jersey Council on Environmental Quality
---
For general inquiries, please email us.  For specific inquiries, please contact our State Leadership contacts.
---
Visit our "AAUW NJ News" Page to see the impact of our organization!
We also have many Special Projects that our Members "work" on!
---