AAUW Start Smart and AAUW Work Smart


Have already trained over 100,000 women online!
AAUW Work Smart Salary Negotiation Training Now Available Across the U.S. 
AAUW Start Smart and AAUW Work Smart workshops empower women with the skills and confidence to successfully negotiate their salary and benefits.  Find out more about this mission-based program and e-mail salary@aauw.org to get started.

IN NEW JERSEY
Contact:  Jane Baus-Niemeyer
WE HOPE YOU WILL JOIN AAUW NEW JERSEY TO PROMOTE $TART $MART WORKSHOPS THROUGHOUT NEW JERSEY COLLEGE AND UNIVERSITY CAMPUSES.
HELP NARROW THE PAY GAP. AS WE KNOW "OVER THE COURSE OF A WOMAN'S WORKING LIFE, A WOMAN WILL EARN ROUGHLY $1 MILLION LESS THAN A MAN- SIMPLY BECAUSE SHE IS A WOMAN."
$TART $MART SALARY NEGOTIATION 3 HR WORKSHOPS:
PROVIDE BENCHMARKS FOR SALARY AND BENEFITS
OFFER SALARY NEGOTIATION SKILL-BUILDING EXERCISES
TEACH PARTICIPANTS HOW TO DEVELOP A BUDGET TO DETERMINE SALARY NEEDS AND RECEIVE A FAIR WAGE.
RECRUIT C/U CONNECTION COLLEGES AND UNIVERSITIES
C/U Connections Northern Coordinators TBD
C/U Connections Central Coordinators   Pat Baroska
C/U Connections Southern Coordinators TBD
DETERMINE THE CAMPUS CONTACT PERSON WHO WILL WORK WITH OUR $TART $MART TEAM TO CHOOSE A DATE AND CAMPUS LOCATION FOR WORKSHOP.
FACILITATORS FOR WORKSHOPS ARE AVAILABLE.
WORKSHOP FEE – CHARITABLE TRUST AAUW NJ MAY HELP TO PAY FOR WORKSHOP COSTS.
Contact $tart $mart Regional Manager:
Jane Baus-Niemeyer, (609) 617-7489
njstartsmart@gmail.com
$TART $MART TEAM
| | |
| --- | --- |
| Maureen Aptowitcz | Joan Odud |
| Marian Wattenbarger | Ruth Hodum |
---
Graduating to a Pay Gap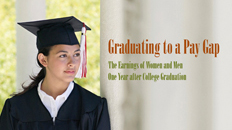 Graduating to a Pay Gap: The Earnings of Women and Men One Year after College Graduation explores the earnings difference between female and male college graduates who are working full time one year after graduation. More info…
---
The Simple Truth About the Pay Gap (2014)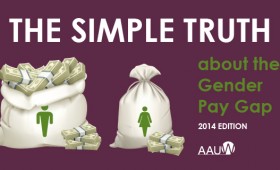 AAUW has updated the research report: The Simple Truth About the Gender Pay Gap with new numbers and graphics.
In this commonsense guide about the gender pay gap, AAUW breaks down the latest research into key, straightforward facts, including:
state by state rankings of the pay gap
the pay gap by age, race/ethnicity, and education
guidance for women facing workplace discrimination
resources for fair pay advocates
---