WorkSmart & StartSmart  AAUW NJ Contact:  Jacqueline McGunniess


Have already trained over 100,000 women online!
AAUW Work Smart Salary Negotiation Training Now Available Across the U.S. 
AAUW Work Smart and AAUW Start Smart workshops empower women with the skills and confidence to successfully negotiate their salary and benefits.  Find out more about this mission-based program and e-mail salary@aauw.org to get started.
No matter how you analyze it, the gender pay gap is real, persistent and harmful to women's financial well-being.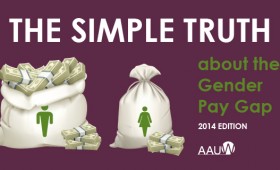 AAUW has updated the research report: The Simple Truth About the Gender Pay Gap with new numbers and graphics.
In this commonsense guide about the gender pay gap, AAUW breaks down the latest research into key, straightforward facts, including:
state by state rankings of the pay gap
the pay gap by age, race/ethnicity, and education
guidance for women facing workplace discrimination
resources for fair pay advocates
---