Joan Odud 1941 – 2023
President of AAUW NJ 2002 – 2006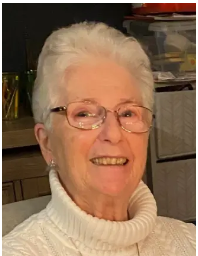 It is with a heavy heart that we report that Joan Odud passed away in June. Joan was a past president of Freehold Branch and of AAUW NJ. Joan was a lifetime and honorary lifetime member of AAUW, extremely devoted to its mission. She was a good recruiter for future board members for both the branch and state. Her complete obituary is available on the website of Higgins Memorial Home, Freehold, NJ.
Joan was a member of the Freehold Branch since its beginning and was always visible in its work in the community. She collected book sale donations in her garage for many, many years and was a fixture at the Freehold Branch Book Sale. She also chaired the Great Decisions interest group for years – her knowledge of international affairs and current topics was impressive.
AAUW NJ has made a donation to the AAUW Greatest Needs Fund in Joan's memory. Joan will truly be missed in our AAUW community.
Submitted by Carol Cohen and Karen Brown