WE ARE FOR MENSTRUAL EQUITY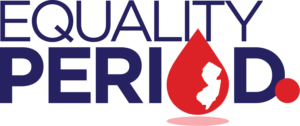 EqualityPeriod.NJ emphasizes that menstruation is a natural bodily function. There should be no shame or stigma attached to periods or the methods utilized to take care of one's needs. Safe, quality period products should be made available and accessible in a non-stigmatizing manner to ALL menstruating individuals in New Jersey.
It's time for New Jersey to be a leader.
It's time for Equality, Period.