AAUW NJ Upcoming Events:
---
2019
---
Sunday, April 7, 2:00 PM – Monday, April 8, Noon
Resorts Casino Hotel on the Boardwalk, Atlantic City
A separate registration form must be completed for every attendee, even if paying as a group
After registering, you can Pay Online, or send a check payable to: "AAUW NJ" (address on registration form). $30 Registration Fee includes entire program, Sunday evening reception and breakfast. Students attend free, but please register!
AAUW is Non-Partisan and Political – Our Sunday panel discussions feature women from Burlington and Atlantic Counties who were elected in 2018 to historically male-held offices:
• In Evesham Township – Jaclyn Veasy (Mayor), Heather Cooper (Deputy Mayor and Councilwoman) and Pat Hansen (Councilwoman)
• In Burlington County –  Felicia Hopson (Freeholder) and Joanne Schwartz (County Clerk)
• In Atlantic County –  Freeholders: Amy Gatto (Chairwoman), Maureen Kern (Vice Chairwoman – District 2) and Ashley R. Bennett (District 3)
* Learn how we can help them succeed in representing us.
Announcing the 2019 Woman as Agent of Change – Inspiring! Challenging! Passionate! Powerful! Lobbyist! Public affairs executive in NJ! She is Jeannine LaRue. Jeannine challenges her listeners to step beyond self-pity and experience the futures they can't even imagine.
Maximize the fun! Stay at Resorts Casino Hotel and join a group for dinner at local restaurants (self-pay). To reserve your room, call 888-797-7700 – must use Group Code VAAUW19. Cutoff Date for making reservations: March 25, 2019
Room rate is $96.38 inclusive of resort fee and taxes – less than $50 per person, if you share!
Self-parking is available in the enclosed garage on North Carolina Avenue for $5 fee for total event, Valet parking is $10.
(Details subject to change.)
Sunday, April 7th
1:00     Registration Opens + Vendors + Branch Baskets set up
1:00     AAUW NJ Board Meeting (Directors Room)
2:00     Opening Remarks – Karen Brown (Green Room)
2:15     Keynote – Kimberly Churches, CEO at AAUW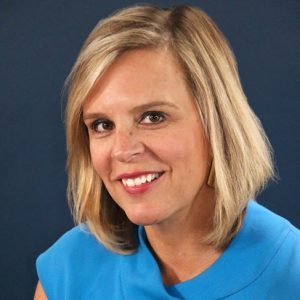 ---
2:45     Panel Discussion Part 1 "What it Means When Women Win"
3:30     "Woman as Agent of Change" Award Presentation
4:15     Panel Discussion Part 2 "Women Represent!"
5:30     Reception – appetizers and cash bar (Atlantic Ballroom)
7:00     Dinner on our own
 Monday, April 8th
8:00 – 9:30 Breakfast (Branch Presidents in Directors Room, Others in Green Room)
8:30 – 9:30 Branch Presidents – Leadership Workshop (Directors Room)
9:00     AAUW NJ Projects Supporting Tomorrow's Women Leaders Existing Projects
10:00   AAUW Strategic Focus on Women's Economic Security – Kimberly Churches
11:00   AAUW Work Smart – Implementation workshop for "Members Mobilize a Million"
11:30   Installation of new AAUW NJ board, Branch Baskets awarded
12:00   Meeting Adjourns – lunch on your own
---
Vendors Wanted
Are you a woman who makes something to sell, or sells something for a woman's cause?
We have several tables available on Sunday at our Annual Meeting for a $30 donation to AAUW NJ Charitable Trust.
AFTER REGISTERING
Vendors can make a charitable donation to AAUW NJ Charitable Trust online using the following link:
or
Donate by check, payable to "AAUW NJ Charitable Trust"
Send to:
Marian Wattenbarger,
Charitable Trust Treasurer
18 Elmwood Lane
Fair Haven, NJ 07704
Note: Vendors also wishing to attend the meeting need to (also) pay the $30 Meeting Registration fee.
---
Thursday and Friday September 19-20, 2019
AAUW of New Jersey Goes to Seneca Falls New York
Coordinated by Central District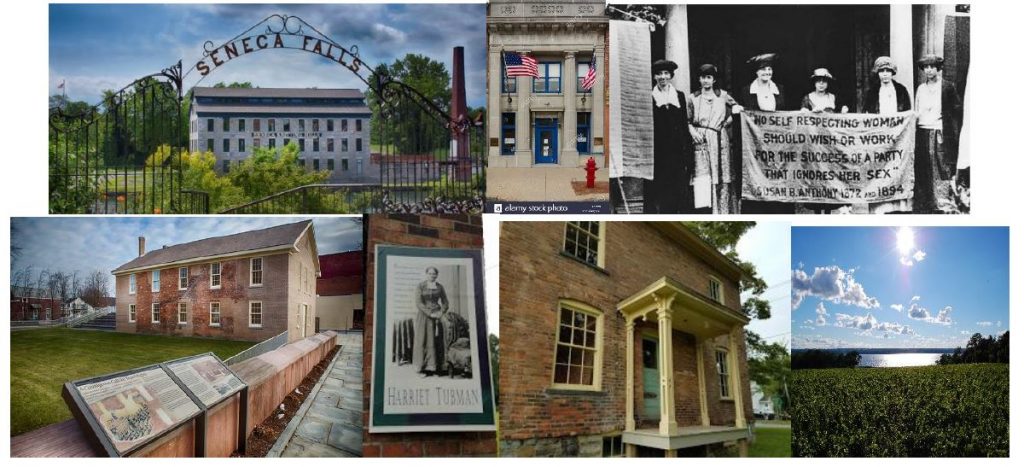 The Seneca Falls Convention was the first women's rights convention. It advertised itself as "a convention to discuss the social, civil, and religious condition and rights of woman". Held in Seneca Falls, NY. This was at the forefront of the Women's Movement and Women's Suffrage…
We will visit the * Historic National Park Site, Finger Lake Winery Tasting * The Women's Hall of Fame and * The Home of Harriet Tubman one of our American Abolitionist in nearby Auburn       
AAUW-NJ will travel from NJ by Bus with Three Stops within our State… 9/19
1. Ocean County Forked River Service Area GSP mile 76 at 7:00 am
2. Monmouth County Service Area GSP mile 99 at 7:30 am and
3. Union County Vauxhall Service Area GSP mile 142 at 8:30 am linking with I-78 W and  I-81 N towards Seneca Falls our destination.
Breakfast-Bagels and water on Bus. Lunch-TBA individual expense. Our over-night stay would be at Ramada Plaza in Geneva. Double Rooms will be available serving two per room. Dinner-TBA individual expense. 9/20 Breakfast included at Hotel. Lunch-TBA individual expense.
The Total Cost is $198.00 Immediate Commitment Payable to AAUW-NJ
Limited Availability
See AAUW-NJ Seneca Falls Trip 2019 Flyer or payment information
Questions: Contact Central District Coordinator:
---