AAUW NJ Upcoming Events:
---
2020
---
Sunday, March 1, 2020
2:00 PM  –  3:30 PM
Location: Eastern Branch of Monmouth County Library (1001 NJ Rt. 35 Shrewsbury)
Suffragists Speak: The Fierce and Flawed Battle for the Vote 
Co-sponsored by Monmouth County Branches of AAUW, LWV, T Thomas Fortune, and Monmouth County Library Eastern Branch.
 Contact: 732-683-8980
Join us for this living history program "Suffragists Speak: The Fierce and Flawed Battle for the Vote." The AAUW, League of Women Voters, and T. Thomas Fortune Cultural Center have partnered with the Monmouth County Library to present the story of the battle for the vote, with particular focus on the experience of African American women.
Living history interpreters bring the words of five women and one man to life. Susan B. Anthony and Frederick Douglass reveal the strain on their friendship that followed passage of the 15th Amendment. Carrie Chapman Catt, Alice Paul and Ida B. Wells take us to the passage of the 19th Amendment in 1920. Their dialogue explores the racial tensions that continued to test the moral compass of the movement. Finally, Fannie Lou Hamer carries the story through the 1965 Voting Rights Act.
Come celebrate the centennial of women's suffrage and consider the sacrifices and compromises made in the name of victory.
Please contact Patricia Baroska AAUW-NJ Central District Coordinator, College/University Coordinator, if you plan to attend and would like to  join some of us for a nearby Brunch (12:00 PM) at Mollie Pitcher Inn in Red Bank.  The Brunch price is $44.95 and is located at 88 Riverside ave. Red Bank. 

---
March 26, 2020
 7-9 pm
Central District Inter-Branch Meeting at Brookdale Community College
Hosted by the Northern Monmouth County Branch
The Theme will be "Closing the Wage Gap" 
---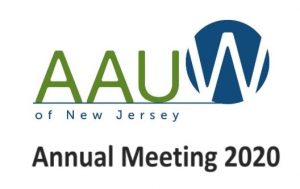 Saturday, April 18, 10:00 AM – 2:30 PM
The Rutgers Club
85 Avenue E, 2nd Floor, Piscataway, NJ
$30 Registration Fee includes program and luncheon. A separate registration form must be completed for every attendee, even if paying as a group. Students attend free, but please register!
After registering, you can pay online
or send a check payable to: "AAUW NJ" 
See Registration Form or Flyer for Mailing Address
Program
(Subject to Change)
Speaker: Yana Rodgers, PhD – The Future of Work, Domestic Workers, and the Gig Economy 
The number of home health aides has surpassed housekeepers and child care providers. These workers are predominantly women. Are they being paid fairly? How does their earnings affect women's pay equity?
Dr. Rodgers talks about the care economy, how that care is organized, and how technology has impacted care providers. 

Yana Rodgers is a Professor in the  Department of Labor Studies and Employment Relations, and in the Department of Women's, Gender, & Sexuality Studies at Rutgers University. She also serves as Director of the Center for Women and Work at Rutgers.  
Play: The Road to Women's Suffrage: A Reader's Theater tells the story, in photographs and direct quotations, of the 72 year struggle for the right to vote. And the fight for equality goes on…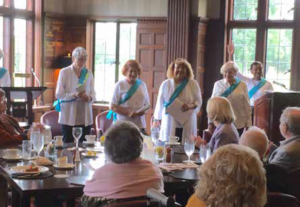 Award: 2020 AAUW NJ Woman as Agent of Change Award (Winner to be Announced)
Agenda
8:30 – 10:00 Registration – Networking Over Coffee, Basket Raffle Open
 8:45 – 9:30 AAUW NJ Board Meeting
10:00 – 10:45 Business Meeting  – Reports, Elections, Branch Awards
11:00 – 2:00 Program and Luncheon
 2:00 – Wrap Up and Basket Raffle