Upcoming Events:

(Includes Branch events)
Branches: Let us know at least one month in advance and we can post your event!
Note: Dates are tentative and subject to change!
---
---
2021
---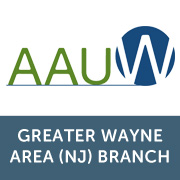 https://greaterwaynearea-nj.aauw.net/scholarship/scholarship-application/
The Greater Wayne Area Branch is running a "Garage-less Garage Sale" as one of its fundraisers this year. Since we've all been at or close to home for the past eight months many of us have used the time to clean out our closets and storage areas. What do we do with all the stuff? Donate it to our branch to sell online to raise money for our scholarship fund!
Here's how it works:
1. Value your items.
2. Take a good, well-lit photo of the item(s). If there are any flaws, make sure that spot appears so buyers know what they are getting.
3. Write a description of the items. It doesn't have to be a novel but telling potential buyers about the item can be helpful.
4. Send the picture and the description to Lorraine LaShell for selling online.
This is an ongoing fundraiser with no deadline. Anyone with an interest in helping raise money for our scholarship fund can participate.

---
Saturday, April 17, 2021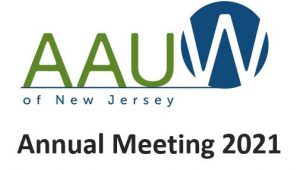 9:45 – 11:30 AM
Click her for additional information about voting at the meeting!
All members are encouraged to attend!
AGENDA
9:45 AM – Assembly
10:00 AM Welcome – Registration and Attendance Report
Call to Order
Reports from The Board of Directors

Membership – Rebecca (Becky) Hughes
Finance – Rebecca (Becky) Hughes
Communications – Mariel Kolker
Public Policy – Keturah Harris
Program – Jacqueline McGuinness
Diversity – Edwina Sessons
AAUW Funds – Nina Del Collo

Report from Bylaws Committee*
Report from AAUW NJ Charitable Trust
Recognition of Branch Achievements
Election of Directors for 2021-2023**
Looking to the Future
Adjourn Business Meeting
11:15 AM Wrap Up Questions and Comments
* BYLAWS REVISION PROPOSAL (Vote by Zoom Poll)
** CANDIDATES FOR DIRECTORS
---
Wednesday April 21 • 7pm
Atlantic County Branch invites you to…
Climate Change Impacts in New Jersey and What We're Doing About It
Learn how the NJ Climate Change Alliance, a network of diverse organizations, shares the goal of advancing non-partisan, evidence-based climate strategies for the purpose of outlining policy options for NJ communities.
A panel of New Jersey conservation experts, moderated by Virginia Rettig, Refuge Manager of Edwin B. Forsythe National Wildlife Refuge, will discuss the latest research related to climate changes that impact NJ's coastal communities and habitats.
A Q&A session will follow the panel discussion. To register, please email Kris Baker before April 15th

---
Save the Date
Saturday, May 8, 2021- 10 AM
A continuation of our Unconference topics
---
Save the Date
Saturday, May 22, 2021 – 10 AM
Panel Discussion
Impact of COVID on Working Women in NJ
---
Saturday, June 5, 2021
Leadership Training
All branch and state officers meet and have breakout sessions by role
---

var _ctct_m = "8dd06a80b4a3c8c42019efac368e0d3b";