---
NJCAHT Scholarship Program – 2019
The New Jersey Coalition Against Human Trafficking is pleased to announce the 2019 NJCAHT Scholarship Award. The Coalition will award several $500 scholarship awards to current high school seniors attending a college, university, or technical school in the Fall 2019 semester, as well as current college students.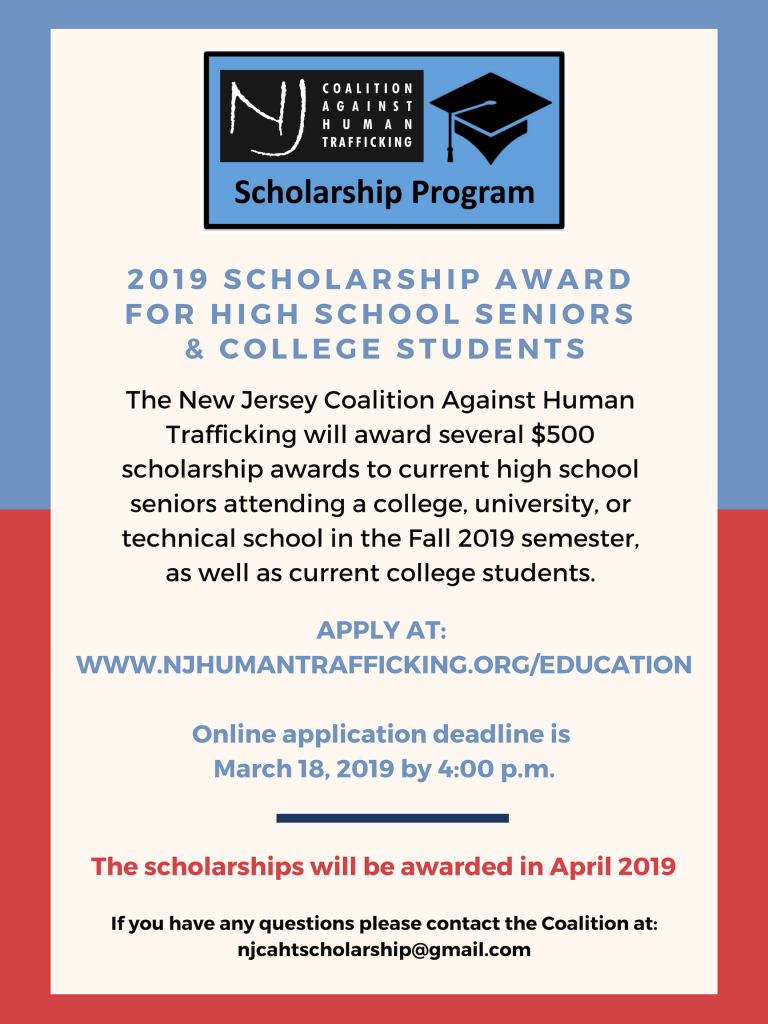 If you have any questions please contact the Coalition at: njcahtscholarship@gmail.com
---
The New Jersey Coalition Against Human Trafficking offers an intensive 3-week volunteer internship program for college undergraduates during Winter Break to coincide with Human Trafficking Prevention Month.
January Intern Program
THE APPLICATION FOR THE 2019 PROGRAM IS NOW LIVE
(Application deadline has passed)
ABOUT PREVIOUS PROGRAMS: 
Our 2018 Intern Program was to create a PSA entitled: "How NJ is Battling Human Trafficking".
Our 2018 Intern Program was run by several members of our 2017 Intern Program – taking their knowledge and passion to inspire the next generation of student activists.
The 2017 Intern Program was to work with local mayors to encourage towns to post PSAs on their municipal websites during January.
Some of the 2017 Intern Program Members are pictured below:
---
ANNUAL MEETING OF THE NJ COALITION AGAINST HUMAN TRAFFICKING
June 14, 2018
Report by Virginia Lyttle, AAUW-NJ Representative
NJ Human Trafficking Prevention Protection and Treatment Act
US Dept. of Homeland Security – Blue Campaign (to end Human Trafficking)
---
Millions of people around the globe are the victims of human trafficking in the form of sex or labor trafficking, human rights violations, etc. AAUW believes that there is a need for national and international policies against human trafficking that promote peace, justice, human rights, sustainable development, and security for all people. The State Policy Sex Trafficking Tool Kit outlines three key state policy priorities — hotline posting requirements, safe harbor laws, and vacatur laws — to identify and combat sex trafficking.
---
A number of our NJ Branches have been involved in Human Trafficking Awareness Initiatives.
Freehold Area Branch, Freehold, NJ
The Freehold Area Branch arranged for their local communities to adopt proclamations regarding the problem, and declare January 11 as Human Trafficking Awareness Day.
Human Trafficking Proclamations
Monmouth County Human Trafficking Awareness program – Sponsored by AAUW Freehold Branch – Held April, 23, 2014
Jefferson Township High School, Morris County, NJ
Human Sex Trafficking and the Super Bowl 2014