Please help support girls in Science, Technology, Engineering, and Mathematics (STEM)!

Stockton University July 15–21, 2018
Select Tech Trek New Jersey – Galloway (Stockton University)
Help More Every Time You Shop, by shopping through:
*

Join Today to Get a $5 Bonus for AAUW Tech Trek NJ
In 2017, the program was expanded to girls in all Counties in NJ.  Student Selection has been completed, and 62 girls have been notified that they have been accepted to attend.  Thanks to the AAUW NJ Members that volunteered to assist with Student Selection! AAUW members volunteered to interview girls in all counties!
For the 2016 camp, girls were selected from New Jersey counties where AAUW members volunteered to interview: Atlantic, Burlington, Camden, Cape May, Cumberland, Essex, Mercer, Middlesex, Monmouth, Morris, and Passaic.  These Volunteer members belong to the following AAUW NJ Branches:
North: Greater Wayne, Madison, and Nutley
Central: Freehold Area, Northern Monmouth, and Trenton
South: Atlantic, Camden, Cape May, and Willingboro Area
---
Volunteers are needed to run our camp every year!
Please visit the AAUW NJ Tech Trek Camp – Volunteers webpage to apply!
---
2017 Camp:  July 16 to 22, 2017
Professional Women's Night – July 20, 2017
---
2016 Camp:  July 17 to 23, 2016
From Ice Breakers to Lifelong Friends: Stories from STEM camp – See Pictures!
---
2016 Professional Women Panelists
Tech Trek camp welcomed 41 Women in STEM Professions to a Networking Dinner with the campers on Thursday, July 21, 2016.  Thanks to all of the women that participated!
---
2015 Camp:  July 19 – July 25
Watch the 2015 Stockton Tech Trek Camp video!
Pictures of the Campers in Action!
Read Article in the Press of Atlantic City!
Read Article in the Cape May County Herald!
Tech Trek and Computer Science Education Week – 12/8/2014-12/14/14
Read Article by Michelle Douglass Founder, AAUW of New Jersey Tech Trek Camp 
---
2017 AAUW TECH TREK NATIONAL SPONSORS
 
 The Association for Women in Computing – Northern New Jersey Chapter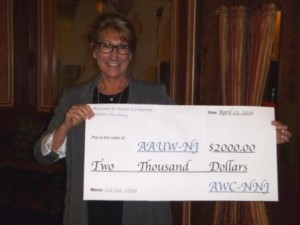 At their meeting on April 12, 2016, the AWC-NNJ Chapter  presented a $2000 donation towards the AAUW-NJ second annual Tech Trek Camp scheduled for this summer.