A DAY OF HANDS-ON TECHNOLOGY WORKSHOPS
FOR MIDDLE SCHOOL (6th-8th GRADE) GIRLS
Tween Tech Workshop at Stockton University
Friday, January 4th, 2019
 (snow date of Monday, January 7th, 
2019)
For more information, email Stockton University
---
Tween Tech Workshop at Cumberland County College
March 15, 2019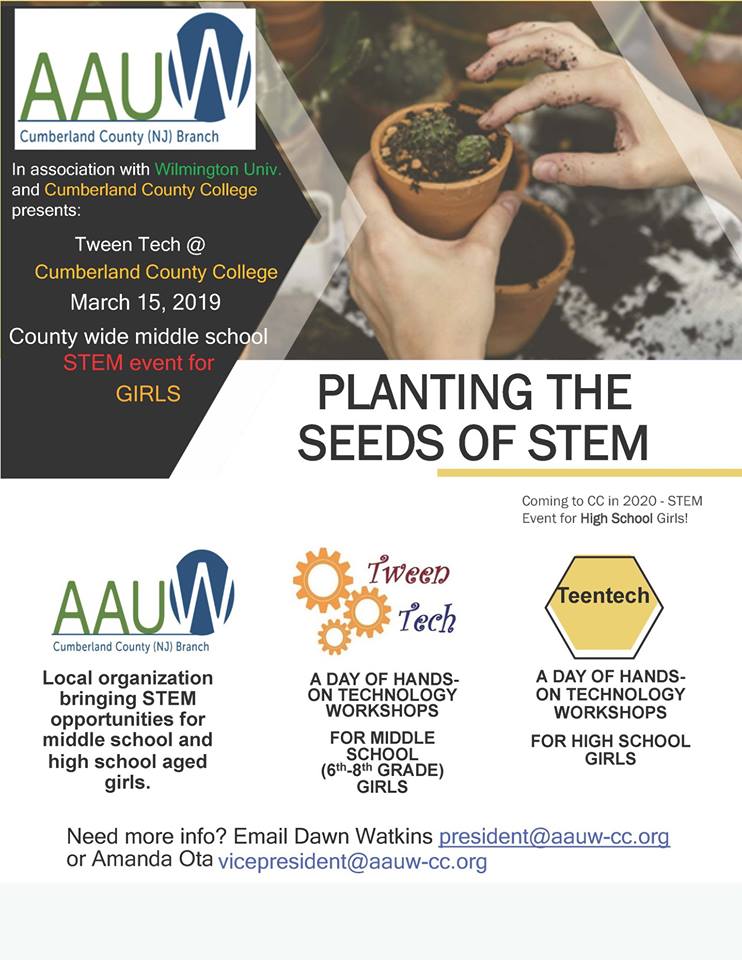 ---
This AAUW of New Jersey program invites teachers to accompany 6th-8th grade (middle school) girls to a one-day, hands-on Science, Technology, Engineering and Math (STEM) field trip at a university at desired regional locations.

Science, Technology, Engineering & Mathematics are for girls!
Bring your students & daughters to learn about what Science, Technology, Engineering & Mathematics are all about during a fun, interactive and inspiring day of girl power!
This mini-conference is designed to develop girls' interest and self-confidence in STEM, featuring:
Local female teachers, professors, and professionals to lead hands-on workshops for middle school girls

AAUW and university volunteers to talk with the girls and their teachers about STEM majors

 Information about the 2017 Tech Trek NJ Summer Camp, for rising 8th graders

Who:     6th – 8th grade girls and their teachers or parents
Sample Workshop Titles: Mystery Diagnosis, Solve a Murder with Forensics, Chemistry of Modern Cuisine, Science of Clay, What's the Chance of That? All workshops are engaging, hands-on science, technology, engineering or math-focused (STEM). Chaperones will participate in workshops as well.
All workshops were engaging, hands-on science, technology, engineering or math-focused (STEM).
For more information, contact:
Mariel Kolker (973) 219-9887
Sponsors will be needed for future workshops!
Many school teachers have requested fee waivers so they can use school funds to secure bus transportation.
Please consider helping to sponsor waivers with a donation of $25 per girl: $125 gets five more girls to Tween Tech; and $250 sponsors an entire school group of 10 girls.
Mail checks to Claudine Keenan, Stockton, University 101 Vera King Farris Drive, Galloway NJ 08205.
Tween Tech serves as a "sampler" for our Tech Trek residential camp, which is open to for 7th grade girls from our state (entering 8th grade after the camp).  
For more information about the camp, visit https://techtrek-nj.aauw.net/
In the tradition of New Jersey's own highly successful "Teen Tech" program, members of the Atlantic, Cape May, and Morris branches held the state's first "Tween Tech" events on January 8th  2016 at Drew University (in the north) and Stockton University (in the south).