Teentech
A DAY OF HANDS-ON TECHNOLOGY WORKSHOPS
FOR HIGH SCHOOL GIRLS
For questions about Teentech events please email: aauwnjteentech@gmail.com
---
Teentech is a one-day event designed to demonstrate that STEM (Science, Technology, Engineering and Math) education and careers are exciting, relevant, and accessible to girls and women. Click here to learn why AAUW NJ sponsors Teentech.
Teentech participants engage in laboratory, engineering, and math workshops presented at a host college/university, giving them confidence-building experiences in a real college setting. The event is run on a school day as an approved school field trip from each attending district. The educators who accompany the girls participate in their own hands-on workshop in the morning and a panel discussion session in the afternoon.
---
Teentech has been a project of the American Association of University Women of New Jersey (AAUW NJ), held in collaboration with a host college/university, for nearly 20 years. Key partners that lend their expertise to Teentech are: The Institute of Electrical & Electronics Engineers (IEEE), U.S. Department of Labor Women's Bureau, NJ Technology and Engineering Educators Assn., and the NJ School Counselors Association.
---
 Please volunteer to help run Teentech 2019!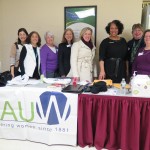 Teen Tech Planning Team. ECCC key member Stephanie Falana (3rd from right). AAUW-NJ President Carol Cohen (2nd from left) and AAUW National Board member Sally Goodson (2nd from right) teentech ECC 2015. 2/10/15 photo: M Graves/AAUW
AAUW members who would like to work on Teentech events please complete the VOLUNTEER FORM
Questions?  Please email: aauwnjteentech@gmail.com  
Please see the AAUW NJ Teentech Volunteer Positions

 document  for details of the types of Volunteers that are needed.
Most needed are AAUW NJ Teentech Chairs, Registrar, and Assistant registrar for future events in 2019.  Working alongside the current team in 2018 is a great way to get on board.  A few AAUW volunteers for the day of each event are also needed to help guide student groups.
Planning/Preparation/Follow-up Positions:
– AAUW NJ Teentech Coordinator (2019)
– AAUW NJ Teentech Chair (2019)
– Registrars (2019)
– Registrar Assistant (2019)
– Packet Assembly Coordinator (2018, 2019)
– Packet Assembly Team Member (2018, 2019))
– Educator Program Coordinator (2018, 2019)
– Volunteer and Logistical Coordinator (2018, 2019)
– Evaluation Analyst (2018, 2019)
– Public Relations (2018, 2019)
Day of Event Positions:
– AAUW NJ Representative
– Day-Of Facilitators
To support AAUW NJ Teentech events financially please contribute to the AAUW NJ Charitable Trust, and include a note indicating which Teentech event you wish to support.
All donations are tax deductible!
Donate by check, payable to "AAUW NJ Charitable Trust"
Add note: Donation to support AAUW NJ Teentech (Date of event)
 Send to:
Marian Wattenbarger
Charitable Trust Treasurer (Att: Teentech)
18 Elmwood Lane
Fair Haven, NJ 07704
OR
(Minimum $10 donation, please)
AAUW NJ was able to sponsor three Teentech events in 2018.
---