AAUW NJ Branch Events:
Branches: Let us know at least one month in advance and we can post your event!
---
2020
---
FEBRUARY 6, 2020
AAUW Freehold Area (NJ) Branch Meeting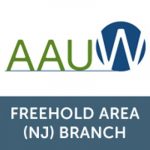 7:00 PM Snack & Chat, 7:30 PM Meeting starts
Doors are locked at 7:15 PM!
(Call Sherry B. at 732-513-4732, if you arrive late.)
(across from Walmart in Freehold)
in the Media Center
Program: Carol Simon Levin will portray Lillian Feickert, President of the New Jersey Women's Suffrage Association from 1912-1920. Learn all about New Jersey's role in enacting the 19th Amendment.
Flyer for February 6th Program – Carol Simon Levin