AAUW NJ Branch Events:
(Branches: Let us know at least one month in advance and we can post your event!)
---
The Northern Monmouth County Branch (NMCB) and the Freehold Area (NJ) Branch has started a STEM Team!
Their first Outreach Project!
2nd Annual Maker Festival!

101 Crawfords Corner Rd, Holmdel, NJ 07733
Phone: (732) 226-8818
Saturday & Sunday, February 24 & 25, 2018 (10 AM – 5 PM)
AAUW Northern Monmouth County Branch (NMCB) / Freehold Area (NJ) Branch STEM Team / Brookdale WEST Club Members
will have 2 Tables at this event!
Building S.T.E.A.M will bring together the maker community, schools and industry to illustrate innovation, creativity and invention as we strive to provide a hands-on immersive environment of learning and exploration. Building S.T.E.A.M. festival welcomes professionals and amateurs, enthusiasts, hobbyists, innovators and entrepreneurs, tinkerers and craftsmen to exhibit, demonstrate and provide educational immersive experiences for the attendees
Please enter "AAUW / WEST Club at Brookdale CC" for school/organization
AND
---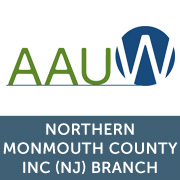 Thursday,April 26, 2018  – at Noon
5th Annual Scholarship Luncheon
Salt Creek Grille, Rumson, NJ
 featuring  Janet Benton,  author of Lilli de Jong

AAUW-NMCB turns 90 this year. To celebrate they are presenting their first Women of Achievement award to Linda Bricker, Mary Eileen Fouratt and Gilda Rogers. Come join them and support AAUW-NOCB's scholarships while dining with friends.