AAUW of New Jersey!
We are women living in New Jersey who have joined this great association (AAUW) because we believe in and support AAUW's mission in advancing equity for women and girls through research, education, advocacy and philanthropy.  AAUW-NJ hosts and participates in many interesting activities and events such as public policy, state issues and legislation affecting women and girls, the annual teentech conference, state annual meetings and much more.
AAUW-NJ is a State organization that supports our local Branches and our Garden State (Virtual) Branch. Joining a New Jersey Branch, or the Garden State (Virtual) Branch, allows Branch Members to participate in Inter-Branch activities and causes, sponsored by AAUW-NJ (including our Annual Meeting, and Fall Focus Retreats).
AAUW Members often choose to belong to one or more local branches. Participate in a local NJ branch to further national and community goals and to capitalize on the networking opportunities.  See below for all the benefits of membership, then find a branch near you.
Individuals who do not wish to join a local branch can join the "Garden State Branch," when joining AAUW.
Membership Dues
For Regular AAUW Members that join a New Jersey Branch, AAUW membership dues includes AAUW National dues ($59) + AAUW State of New Jersey organization dues ($10) + Branch dues (dollar amount varies by Branch), and are for fiscal year beginning July 1 and ending June 30. Branch dues for the Garden State (Virtual) Branch is $0.
Memberships for Students (of Non-AAUW College/University Members) is $18.81.
Undergraduates or degree-seeking graduate students enrolled in full-time or part-time programs may join and renew at this rate through graduation.
Please click here to join.
Note:  Students can received free e-memberships, if their school is a College/University Partner.
Students are encouraged to join a local branch as a student affiliate.  For some branches, you can join as a Student Affiliate on the AAUW National website.  For other Branches, it is necessary to contact the Branch in order to join. See their branch web sites, or contact their Branch President, for more information on Branch memberships and payment of dues.
For the Garden State (Virtual) Branch and for some Branches, dues can be paid on the AAUW National website.  Some Branches choose to collect their own dues. See their branch web sites, or contact their Branch President, for more information on Branch membership and payment of dues.
Because AAUW (National) is a 501(c)(3) charitable membership organization, most of your national dues are tax deductible on your personal federal income tax return.
AAUW national membership dues are $59, of which $56 is tax deductible as a charitable contribution. The remaining $3 is not tax deductible because it supports the AAUW Action Fund's section 501(c)(4) Capitol Hill Lobby Corps and get-out-the-vote activities. Student dues (for Non-AAUW College/University (C/U) Members) are $18.81, of which $16.81 is tax deductible and $2 is not.  Membership for Students of AAUW C/U Members is $0.

---
Any accredited higher education institution is eligible to become a C/U member and can appoint one or two eligible representatives to receive free national membership.  Local branch and state membership dues are an additional cost (Dues are $175, and are fully tax-deductible).
By joining a local Branch, or the Garden State Branch, you can also be part of an enthusiastic and motivated state group that supports and shares your thoughts on state and local issues for women and girls.
Questions about membership & dues? Please contact our Membership Vice President, Diane Crawford.
AAUW – National Membership offers you:
Membership in the largest and oldest national organization working for the advancement of women and education
Resources of the AAUW Educational Foundation providing $2 million annually for graduate study, public service projects, and branch and individual research
Access to the AAUW Legal Advocacy Fund
– a support system for women seeking judicial redress for sex discrimination in higher education
Membership in the International Federation of University Women
– a worldwide network of educated women
College student affiliation
A voice in Washington via an active Public Policy Program
National conferences, seminars, and a biennial Association Convention
Nationally recognized publications and resource materials on current issues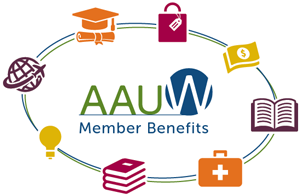 Click here to find out more about AAUW Member Benefits
AAUW – NJ offers you:
A respected coalition to address state and regional issues
An active Public Policy Program focusing on gender equity in education, elimination of harassment, environmental issues, right of choice, and freedom from violence
Leadership training
Conferences and workshops with expert, stimulating speakers
Timely communication of News items of interest to our membership
Ability to participate in AAUW NJ events
Interactions with New Jersey colleges and universities
Your Branch offers you:
Opportunities to study and take action on current problems and issues
Participation in branch projects which enrich and support the community
Business and career networking
Friendships and support from dynamic, educated members of diverse ages, occupations, lifestyles and ethnic groups
The opportunity to develop leadership and organizational skills
BRANCH ANNUAL DUES 2018-2019 (Subject to Change)
| | |
| --- | --- |
| BRANCH |  AMT. |
| Atlantic County |  $    10 |
| Barnegat Light Area |  $    10 |
| Camden County |  $      8 |
| Cape May County |  $    10 |
| Freehold Area |  $    11 |
| Garden State (Virtual) Branch | $       0 |
| Gloucester County |  $    16 |
| Greater Wayne Area |  $    15 |
| Madison |  $    16 |
| Medford Area |  $     11 |
| Montclair |  $    16 |
| Mountain Lakes Area |  $    16 |
| Northern Monmouth County |  $    16 |
| Northern Ocean County |  $    10 |
| Northwest Bergen |  $      1 |
| Nutley |  $      6 |
| Salem County |  $      6 |
| Somerset Hills |  $    26 |
| Summit |  $    13 |
| Sussex County |  $    16 |
| Trenton |  $    14 |
| Willingboro Area |  $    11 |
Questions about membership & dues? Please contact our Membership Vice President, Diane Crawford.
---
---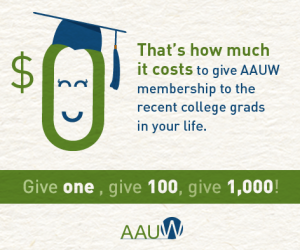 ---
The Perfect Gift for Graduates
You have something special to give new college grads: one year of free national membership! It's easy, and you can give AAUW memberships to as many recent graduates as you like.
GIve the gift of AAUW membership now.
---