Know a future STEM star who just needs a little encouragement, but don't know where to start? AAUW and FabLab have you covered. Here are five ways to support a girl's passion for science, technology, engineering, and math (STEM).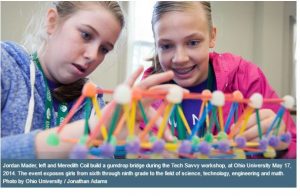 Tune in with your favorite Steminist for a fabulous collaboration between AAUW and Fab Lab. Airing weekend mornings on your local FOX affiliate. FabLab is scouring the globe for mind blowing new discoveries, inventions and innovations that are making the world a better place. Check Local Listings.
---
Live Stream of AAUW's Solving the Equation Launch (See Archive Recording)!
AAUW's latest research report on women in STEM, Solving the Equation: The Variables for Women's Success in Engineering and Computing, was released on March 26, 2015, with an event and panel discussion at Samsung's new research headquarters in Silicon Valley.  Watch the archive recording.
---
AAUW and Verizon Foundation Join Forces to Teach Girls to Build Apps
This summer AAUW and the Verizon Foundation are set to launch an initiative to teach girls how to develop apps at AAUW's weeklong science, technology, engineering, and mathematics (STEM) summer camps for rising eighth-grade girls.
Tech Trek camps at the University of California, Santa Barbara; Southwestern Oklahoma State University; and the University of Alabama, Huntsville, will pilot an apps inventor course, which was developed by MIT and will be implemented thanks to an $84,000 grant from the Verizon Foundation.
The new course will teach camp attendees the app design process, basic programming skills, and the App Inventor tool. Then the girls will choose problems in the local community to solve by building their own app. MIT will train Tech Trek instructors how to teach the course and provide assistance during the camps to ensure flawless implementation.
"With this new course, girls will have access to a high-quality learning experience developed by one of the world's best research universities," said AAUW Executive Director and CEO Linda D. Hallman, CAE. "The campers will be able to see themselves as innovators and problem solvers helping their community. It's yet another opportunity for them to explore STEM in cool and creative ways, and we're grateful to the Verizon Foundation for making it possible."
AAUW's 2010 report Why So Few? Women in Science, Technology, Engineering, and Mathematics provides compelling evidence that environmental and social barriers continue to limit women's participation and progress in these fields. Yet the need for more women in these fields goes beyond simply offering women and girls equal opportunities.
Across the globe, women are underrepresented in STEM careers. They hold nearly half of all jobs in the United States but fewer than 25 percent of STEM jobs. Coupled with the U.S. Department of Commerce's prediction that jobs requiring a STEM background will grow by 17 percent over the next 10 years and the growing shortage of U.S. STEM workers, it's clear that women are an untapped resource when it comes to economic and innovative progress.
"We are focused on inspiring more students to pursue STEM, especially girls and students from underserved communities, who remain underrepresented in these promising fields," said Justina Nixon-Saintil, the director of education and technology programs for the Verizon Foundation. "Through our work with Verizon Innovative App Challenge, we have observed mobile technology to be a powerful tool for student engagement in these subjects. For this reason, we are delighted to support the AAUW Tech Trek program by providing app development training."
The White House announced the initiative at its annual science fair earlier this week. Tech Trek camps have a proven track record for promoting STEM to girls. More than 90 percent of girls who attended the camps reported that Tech Trek boosted their confidence in their ability to be successful in science classes, and 78 percent said the same for math classes.
Watch what happens at Tech Trek:
---
Solving the Equation: The Variables for Women's Success in Engineering and Computing
More than ever before, girls are studying and excelling in science and mathematics. Yet the dramatic increase in girls' educational achievements in scientific and mathematical subjects has not been matched by similar increases in the representation of women working as engineers and computing professionals. Why there are still so few women in the critical fields of engineering and computing? AAUW's Solving the Equation: The Variables for Women's Success in Engineering and Computing explains what we can do to make these fields open to and desirable for all employees.
Read More: https://www.aauw.org/research/solving-the-equation/
Executive Summary: Solving the Equation: The Variables for Women's Success in Engineering and Computing
Download the Solving the Equation Executive Summary in English
Download the Solving the Equation Executive Summary in English
Download the Solving the Equation Executive Summary in Spanish
---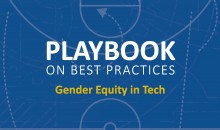 In the midst of many reports on the lack of diversity in tech AAUW is pleased to share solutions for increasing the representation of women in engineering and computing.
A product of a partnership between AAUW and Dell, the Playbook on Best Practices: Gender Equity in Tech equips advocates and employers with actionable steps and a data-driven approach to promoting gender equity in tech.