Do you want to help advance gender equity and create a more economically secure world for women and girls? Get involved today!
TAKE ACTION
Join us in pushing for federal policies to advance gender equity. We support strong laws to close the wage gap, provide paid sick time and parental leave, protect pregnant workers, curtail sexual harassment and more.
Want to See Action on Women's Issues?
Take Action in Your State
Make a difference in your state. Get involved. Close the gender pay gap. Pass paid family leave. Stop sexual harassment. Support women and girls in STEM. Advance gender equality for all.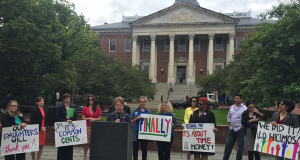 Supporters like you make a difference in statehouses across the United States. AAUW has activitists in all 50 states and Washington, D.C. who exert significant influence over policy.
The AAUW policy team can help you identify, track and assess current legislation where you live and rally your network to support and oppose proposed bills.
---
Send emails and texts to your legislators to fight for equal pay, family leave, stopping sexual harassment, equality in education and more. Sign up to get regular alerts to be able to take timely action.
---
Pay equity. Paid family leave. Title IX. Lowering student debt. Stopping sexual harassment. Get involved. By changing policies we can improve gender equity.
AAUW's Public Policy Priorities, adopted every two years by every-member vote, establish the federal action issues on which AAUW members across the country focus their advocacy efforts and guide the work of the national staff. States and branches should also use the Public Policy Priorities to inform their advocacy efforts on state and local issues.
---
Make Your Voice Heard
AAUW has always stood for solutions that work for all women and families — and we do not intend to stop now. AAUW's advocacy has made women's voices heard from the White House to Congress to the statehouse, and your voice is needed now more than ever! That's why AAUW has compiled a set of resources to guide you in advocating for women and girls through a variety of tactics and actions.
Keep AAUW National informed of upcoming Advocacy events and activities.
---
AAUW's policy work connects and rallies advocates at the local, state, national, and global levels to empower women and girls. AAUW uses lobbying and grassroots efforts to push forward policies that break through educational and economic barriers for women. Below we highlight our positions and advocacy on major issues.
Where We Stand: Economic Security
AAUW advocates for all women to achieve economic self-sufficiency.
Where We Stand: Education & Title IX
AAUW supports a strong system of public education that promotes gender fairness, equity, and diversity, including vigorous enforcement of Title IX.
Where We Stand: Civil Rights
AAUW advocates for equality, individual rights, and social justice for a diverse society.
---