Want to See Action on Women's Issues?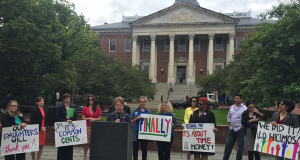 In 2016, AAUW members were busy at every level of government passing good laws, beating back bad ones, and laying the groundwork for more successes in 2017. Across the country, state legislatures were particularly inclined to work on economics and public finance, health, crime and law enforcement, education, and commerce. Let's take a look back at the year in statehouses across the country and find out how AAUW public policy priorities fared.
---
Keep AAUW National informed of upcoming Advocacy events and activities:
Advancing Equity for Women and Girls through
Advocacy, Education, Philanthropy, and Research

AAUW is a non-profit & non-partisan political organization that advocates on public policy issues that affect women. Issue advocacy is not just about AAUW lending its name to an issue, or speaking up on Capitol Hill. Issue advocacy is about AAUW members and all citizens concerned with equity being knowledgeable and aware of the current status of important issues. For example: AAUW lobbied for women's voting rights as early as 1913. AAUW has been empowering women since 1881.
Civil Rights
AAUW advocates equality, individual rights, and social justice for a diverse society.
Affirmative Action
Federal Judicial Nominations
Hate Crimes Prevention
Lesbian, Gay, Bisexual, and Transgender (LGBT) Issues
Reproductive Rights
Economic Security
AAUW advocates for all women to achieve economic self-sufficiency.
Work/Life Balance (flextime)
Pay Equity
Retirement Security
Health Care
Education
AAUW supports a strong system of public education that promotes gender fairness, equity, and diversity.
Career and Technical Education
Disabilities
Education and Training in Welfare/TANF
Higher Education
No Child Left Behind Act
School Vouchers (but not to private schools)
Single-Sex Education
Science, Technology, Engineering and Mathematics (STEM) Education
Title IX
AAUW supports vigorous enforcement of Title IX and all other civil rights laws pertaining to education.
Title IX
Equity in School Athletics
Freedom from Sexual Harassment/Bullying
Single-Sex Education
Healthcare
The American Association of University Women (AAUW) believes that everyone is entitled to health care that is high-quality, affordable, and easily accessible.
---
Take Action
AAUW's advocacy work builds upon a century of responsible public participation at the local, state, national, and international levels. The member-endorsed Public Policy Program illuminates and advances AAUW's mission of promoting equity and education for all women and girls.  AAUW conducts comprehensive advocacy to pursue its public policy priorities, developing and implementing coordinated legislative and grassroots strategies to break through educational and economic barriers so all women have a fair chance.
The AAUW Public Policy and Government Relations Department – with input from the member leaders of the AAUW Public Policy Committee – implements the public policy program. But it is AAUW member advocates across the country, who speak their minds on AAUW issues that truly advance AAUW's mission.
Anyone with an e-mail address can subscribe to the AAUW Action Network, a group of AAUW members and supporters committed to mobilizing citizens on issues affecting women. Discover what's happening in Washington and what you can do to influence the outcome. Action Network sends subscribers' urgent e-mail notices to contact their members of Congress.  With our online system, you can make your voice heard in just minutes.  AAUW members and supporters can also find detailed information on legislation currently under consideration in Congress and write letters to the editor of their local paper.