Donate to AAUW today for social change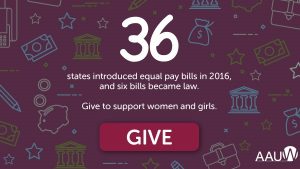 For more than 135 years, AAUW has served as a grassroots organization to improve the lives of millions of women and their families. The support of donors like you is critical to our mission. Your gift will support AAUW's fight against unequal representation in business and government, discrimination and harassment in the workplace, the gender pay gap, and more.
---
AAUW Program Names and Fund Numbers
9110 — The AAUW Greatest Needs Fund, formerly called the AAUW Fund, gives AAUW the mobility to rapidly respond to new and emerging challenges or opportunities facing women and girls.
4449 —Economic Security Fund ensures livelihoods for women through achieving pay equity for women, providing training in salary negotiation, and deepening women's retirement security and quality of life.
4450 —Education and Training Fund addresses the barriers and implicit biases that hinder advancement of women by championing equal access to education and ensuring that education at every level is free from sex discrimination.
4452 —Leadership Fund supports the effort to close the gender gap in leadership opportunities by bolstering the participation of and increasing the number of girls and women in leadership roles, particularly in education and nonprofit organizations.
4451 —Governance and Sustainability Fund ensures the strength, relevance, and viability of AAUW into the future by implementing best practices in organizational functioning and inclusion and by diversifying revenue.
---
---
---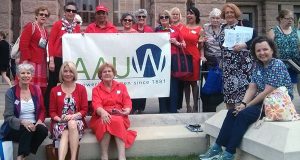 ---
There are many ways to honor or memorialize someone special or recognize an important event by investing in women and girls through AAUW.
Sponsorship is a powerful way to show your support for AAUW national initiatives and see the results at the local level.
Celebrate Your Milestone: Establish an Honorary or Memorial Fund
Please make a tax-deductible gift to the AAUW today!