Ensuring livelihoods for women
Know Your Rights: The Equal Pay Act
Despite the passage of the EPA 55 years ago, women still do not take home wages equal to those of their male peers. If you're concerned that you may be a victim of sex-based pay discrimination, or if you just want to know more about how the EPA works, this resource covers the basic information to get you started.
---
State of the States: A Globally Competitive Workforce Starts with an Equitable Workplace
Every year, at the start of their respective legislative sessions, governors across the country deliver their assessments of the condition of their states. They offer esteem for outstanding achievements among their citizens or groundbreaking triumphs within their legislature, each one assuring that their state is progressing in a positive direction. In addition to recounting the successes of the previous year, the addresses offer an opportunity for governors to speak on any legislative concerns and present a strategic plan to support statewide improvements in these policy areas. Read More
---
AAUW salary skills builder interactive tool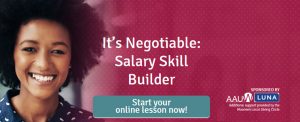 The gender pay gap is real and has far-reaching consequences for women's economic security. Get the pay you deserve. AAUW's new online, interactive will help you articulate your value in your next negotiation.
Click to start a short online lesson.  Read More
---
States Notch Multiple Equal Pay Victories in 2017
Voters are fed up with the persistent gender pay gap, and many state legislators are listening. In 2015 and 2016 dozens of legislatures proposed and enacted bills and laws addressing pay inequality. In 2017 a whopping 42 states, plus Puerto Rico and Washington, D.C., offered legislative solutions to the gender pay gap. While not all of these bills passed, this growing activity shows that red, blue, and purple states realize that the pay gap is real and that something needs to be done about it.
---
The gender pay gap is a real and consistent problem, which is all too apparent when we examine the data on the earnings of men and women. No matter how you break down the numbers—by state, by age, by education, or by occupation—the gap is substantial. And cities are not immune to this problem, as our new analysis shows.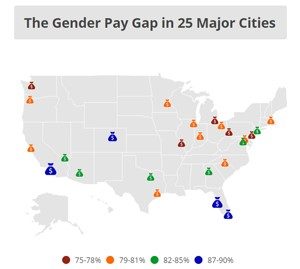 AAUW has analyzed the pay gap faced by women of different races and ethnicities in 25 of the largest U.S. metropolitan areas. The analysis revealed that there is a substantial gender pay gap in all 25 cities, with even larger gaps for black and Hispanic women.
---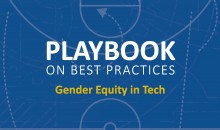 In the midst of many reports on the lack of diversity in tech AAUW is pleased to share solutions for increasing the representation of women in engineering and computing.
A product of a partnership between AAUW and Dell, the Playbook on Best Practices: Gender Equity in Tech equips advocates and employers with actionable steps and a data-driven approach to promoting gender equity in tech.
---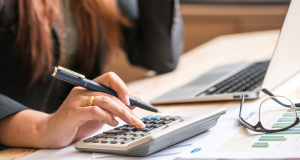 Simply put, the gender pay gap is the gap between what women are paid and what men are paid. The most commonly cited gender pay gap statistic in the United States compares the median annual earnings of women who work full time, year-round against the median annual earnings of men who work full time, year-round. There are as many ways to calculate gender pay gaps as there are ways to calculate average pay earned by workers, as long as the original data source records whether workers are men or women. Though the ratio of women's pay to men's pay varies depending on the data source and analysis, the finding that women are paid less than men is extremely consistent.
Read more.
---
AAUW Work Smart Salary Negotiation Training Now Available Across the U.S.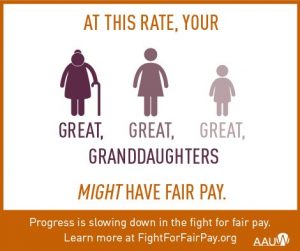 The AAUW Work Smart salary negotiation program that helps women hammer away at the gender wage gap will have greater reach this Equal Pay Day, due in large part to frustration with the status quo. Left on its own, the gender wage gap won't close for another 135 years, which is unacceptable and explains why numerous cities are collaborating with AAUW.
AAUW Work Smart has expanded beyond Boston, where it first launched just two years ago, to Washington, D.C.; Tempe, Arizona; and Long Beach, California.. Read more
---
4 Tips to Negotiating for the Salary and Benefits You're Worth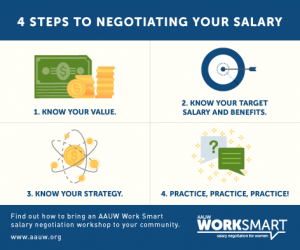 At AAUW we're moving the needle on the gender pay gap through our innovative research, powerful advocacy, and salary negotiation programs for women across the country. You can sign up for a workshop near you, but in the meantime here are four tips for you. Ready to get paid what you're worth? Follow these four steps to successfully negotiate your salary and benefits package. Read more.
---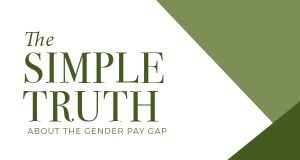 You've probably heard that men are paid more than women are paid over their lifetimes. But what does that mean? Are women paid less because they choose lower-paying jobs? AAUW's The Simple Truth about the Gender Pay Gap succinctly addresses these issues by going beyond the widely reported 80 percent statistic.
Read more.
---
The gender pay gap is real, and it hurts women and families. Passing a federal law, like the Paycheck Fairness Act or the Fair Pay Act, would help protect everyone in all states. But until that happens, each state will continue operating under antiquated regulations and piecemeal state and local laws to combat unequal pay. While some states do have stronger laws than other states, AAUW members will keep working to make the whole country a better place for women to live and work.de to Equal Pay in the States
Earlier this year, Massachusetts Governor Charlie Baker (R) signed a bipartisan pay equity bill, which prohibits employers from requiring salary history information before receiving a formal job offer.
Other states have followed suit in diminishing this harmful practice. Governor of California, Jerry Brown (D), signed into law a bill saying that salary history can't be the only reason to point to if a wage discrepancy exists. Legislators in Maryland, Delaware, Utah, and Nebraska also passed equal pay bills in 2016. Red, blue, and purple states are realizing that the pay gap is real and are taking steps to close it.
---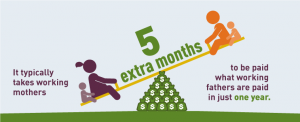 Women around the country "celebrated" Equal Pay Day on April 12, but mothers (and most women of color) have to wait even longer for their paychecks to catch up. May 16 represents the symbolic day when the median pay of mothers who work full time, year-round, catches up to the pay that working fathers received the previous year. Mothers typically are paid only 73 cents for every dollar fathers are paid — mothers face a pay gap larger than the 21-cent gap between women and men overall.
---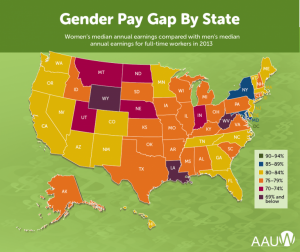 Every year governors across the country offer up their assessments of the state of their respective states. While each one undoubtedly claims, "The state of our state is strong," it is unfortunately less common for governors to examine the issues that AAUW members prioritize. In 2016, of the 42 governors who gave speeches or wrote addresses, only two governors discussed equal pay. Check out where your state ranks nationally, and learn about the existing state laws.
---