AAUW NJ News
---
AAUW is committed to open and fair elections, nonpartisan voter education efforts that will promote equitable political participation and representation in appointed and elected office, and the expansion of voting rights.
Evelynn (Lynn) Caterson, a 50-year member of AAUW  is the Chair of the Atlantic County Board of Elections.  She saw many issues with the balloting process in the Atlantic County Primary Election.  In an effort to prevent such problems in the General Election, she wrote to the Governor and Secretary of State, asking them to use their authority to remedy these issues.  That letter is "MIB Letter to Gov Murphy 7 31 2020."
If you are concerned about the mail-in-balloting (MIB) process, please read Evelynn Caterson's letter, and share it with your county election board chair and state representatives.
---
Week of June 22, 2020
AAUW NJ Values Care Workers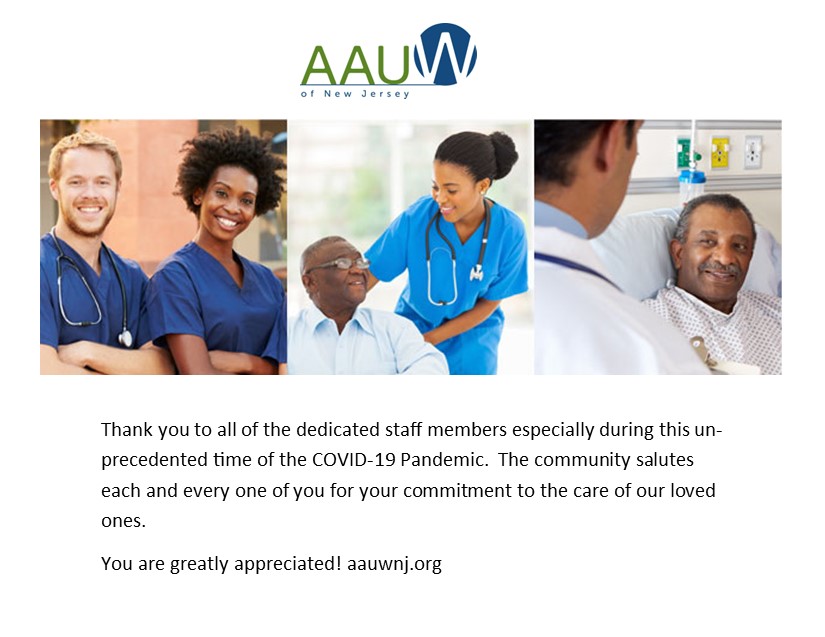 Even when there isn't a pandemic, we know that the gender pay gap is large for the essential front line workers who care for those who can't care for themselves – workers who are almost all women. A recognition project is being planned for the week of June 22 to thank the staff of long term care facilities (LTCF) and let folks know that AAUW is  working for fair pay.
Branches in New Jersey are asked to identify a long term care facility in their area and to contact the administration to identify something the staff would appreciate, such as a meal, treat, or an item that is needed. Then the Branch would purchase the items, hopefully supporting a local restaurant or merchant in the process, and either deliver in person or arrange for delivery to the LTCF. We ask that an AAUW member and a recipient at the LTCF take a picture with our AAUW banner and a sign thanking the workers, for posting on our website and Facebook page. Send your ideas to aauwnj@gmail.com. Watch for an update sharing ideas from the organizing committee and branches.
---
February 14, 2020
Pictured left to right: Jacqueline McGuinness, Karen Brown, Nancy Butler, Rosie Driscoll in Senator Menendez's Newark office.
AAUW NJ members Karen Brown, president; Jacqueline McGuinness, secretary;  and Nancy Butler, past president, met with Rosie Driscoll, Senator Menendez's Outreach Specialist for women's issues, to discuss AAUW's priorities and exchange ideas for supporting each other in our work towards equity for all.  AAUW NJ shared information on the availability of AAUW research and extended invitations to our upcoming events. Ms. Driscoll asked that we be sure to let the senator's office know of situations encountered in New Jersey that seem to be discriminatory. Also, she stressed the importance of contacting elected officials in support of their positions, not only when we have an objection – this allows them to better respond to critics.
---

Forum on Modern Slavery:  21st Century Solutions
See full write-up: Forum on Modern Slavery held at Seton Hall
AAUW-NJ was represented at Seton Hall University on September 27, 2019.  As a member of the New Jersey Coalition Against Human Trafficking (NJCAHT), it was thrilling to be in attendance when Nadia Murad, the 2019 winner of the Nobel Peace Prize, was presented with an honorary doctorate degree from the Seton Hall University's School of Diplomacy and International Relations. …
The eradication of modern day slavery requires awareness and recognition of the problem, enforcement and monitoring of existing laws, and the elimination of the conditions which lead to bondage.  Look around:  see something; say something; do something.
Submitted by Ginny Lyttle, AAUW-NJ Representative to the NJCAHT
---