See January 21, 2017 Women's March Archives
---
Thanks to our Members that Completed the AAUW NJ 2018 Member Survey!
Survey Results:
What are your AAUW NJ priorities?
99 Members responded.  Here is what you said…
---

Many people thought the Women's March was the peak moment of the resistance. But it wasn't – It was just the beginning.
Morristown, NJ – January 20, 2018
AAUW NJ Joined the March!
---

New Jersey Capitol Report with Steve Adubato & Rafael Pi Roman: Keri Logosso-Misurell; Preston Pinkett; Carol Cohen
Preston Pinkett III, chairman and CEO of City National Bank, one of the pioneer financial institutions founded and run by minorities, talks to Steve Adubato about balancing the need to make a profit but also keeping true to the original mission of serving minority clientele. Steve Adubato goes One-on-One with Keri Logosso-Misurell, Esq., director of the Greater Newark Healthcare Coalition about how her organization is trying to engage university faculty and researchers and community-based advocates to reduce adverse traumatic experiences in urban areas. Carol Cohen, President, American Association of University Women NJ talks about the wage gap that exists between men and women in the state of New Jersey as well as how her organization teaches the younger generation to negotiate fair salaries for their future careers
---
New Jersey State Task Force on Campus Sexual Assault
Please join AAUW of New Jersey in congratulating Virginia Lyttle on her formal appointment to the New Jersey State Task Force on Campus Sexual Assault.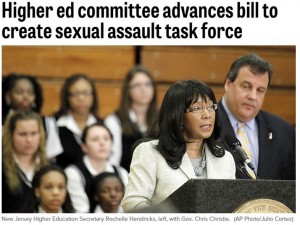 The Task Force on Campus Sexual Assault legislation (S-2812) was passed by the New Jersey State Assembly and Senate in the fall of 2015 and signed by the Governor in early December 2015. Our Legislative Watch Committee (Sally Goodson & Adrienne Lesser) lobbied for passage of this legislative action since February 5, 2015.
AAUWNJ formally requested a seat on the New Jersey State Task Force on Campus Sexual Assault.  Virginia (Ginny) Lyttle was our AAUW appointment nominee.  (Read More)

On June 26, 2017: "The NJ Task Force on Campus Sexual Assault released its report Addressing Campus Sexual Violence: Creating Safer Higher Education Communities in a press conference with Task Force bill co-sponsors Assemblywoman Valerie Vainieri Huttle and New Jersey State Senator Sandra B. Cunningham as well as Task Force co-chair Patricia Teffenhart of New Jersey Coalition Against Sexual Assault and Task Force member Dr. Sarah McMahon of Center on Violence Against Women and Children. The 12-member Task Force also includes our CEO Helen Archontou along with members from state government agencies, Rutgers University—Newark, Drew University, Montclair State University, County College of Morris, AAUW of New Jersey, and Bramnick Law. Read the report here: www.state.nj.us/…/pdf/i…/sexualassaultaskforcereport2017.pdf"  – YMCA Bergen County