2022
2021
2020
---
(2020)
---
Thanks to our own Michele Guttenberger who wrote a piece recently for Patch to give AAUW NJ exposure on events we are still doing through this pandemic.  
---

---
Reproductive Freedom Act Aims to Protect and Expand Health Care Access in New Jersey
On Friday, 10/2/2020, Governor Murphy announced that the Reproductive Freedom Act, will be moved out of committee for consideration of the NJ legislature. This bill is, "proactive legislation that will help protect and expand New Jerseyans' ability to receive reproductive health care, such as birth control, and pregnancy-related care, including abortion.
https://nj.gov/governor/news/news/562020/approved/20201002b.shtml
The Reproductive Freedom Act protects and expands access to essential reproductive health care services in three key ways:
The Reproductive Freedom Act explicitly ensures all New Jerseyans have the right to make their own personal health decisions when it comes to birth control and pregnancy-related care, including abortion. The decision about whether and when to become a parent is one of the most important life decisions we make. We need to trust all people who can become pregnant to make decisions about their own health and lives.
The Reproductive Freedom Act makes certain that financial barriers do not prevent anyone from making their own personal health decisions when it comes to birth control and pregnancy-related care, including abortion. Key provisions of the bill require private insurance coverage for birth control and abortion care with no out-of-pocket costs, to ensure that a person's income or insurance status do not dictate their ability to access time-sensitive health care.
The Reproductive Freedom Act expands access to birth control and pregnancy-related care including abortion by breaking down medically-unnecessary restrictions that right now only serve to block access to care. It is time to secure a future that safeguards reproductive care, upholds basic rights and justice, and respects decision-making throughout pregnancy.
AAUW of NJ Thanks Governor Murphy, Lt. Governor Oliver, Senator Weinberg, and Assemblywoman Huttle for taking a strong stand in support of women's equity and making NJ a good example for the rest of the country.
---
---
---
(2019)
---

November 25, 2019
Supporting Title X with Planned Parenthood at the Statehouse in Trenton
The bill to replace funding for family planning services passed (voting along party lines)! Funds will be distributed by NJ Commissioner of Health to agencies that lost funding due to not conforming to the Title X gag rule (which prevents providers from even discussing all of a patient's health care options, including abortion). Funds still can not be used to provide abortions. ??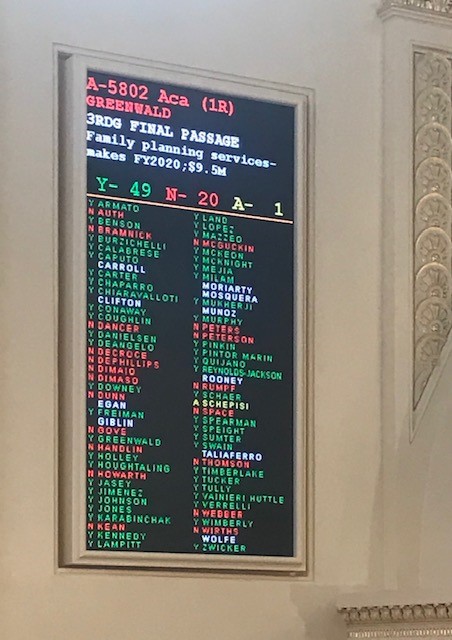 We pinked out at the Assembly voting session to show support for Title X and Assembly Bill A5802. This bill will provide temporary emergency funding to reproductive health care providers, such as Planned Parenthood, who have been forced out of the Title X program due to the medically unethical gag rule.
---
(2018)
---
Thanks to our Members that Completed the AAUW NJ 2018 Member Survey!
Survey Results:
What are your AAUW NJ priorities?
99 Members responded.  Here is what you said…
---

Many people thought the Women's March was the peak moment of the resistance. But it wasn't – It was just the beginning.
Morristown, NJ – January 20, 2018
AAUW NJ Joined the March!
---
(2017)
---
January 21, 2017
WMW_Guiding Vision & Definition of Principles
 i
n the News
Next steps after Women's Marches throughout our State, Washington DC, the nation and every continent
---
January 23, 2017
NJ Senate Failed to Override Vote for Equal Pay Bill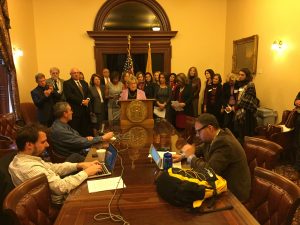 TRENTON – Senate Majority Leader Loretta Weinberg issued a statement that the Senate failed to override the governor's veto of legislation that would help to secure equal pay for women in New Jersey.
The Equal Pay Bill (S-992): the-equal-pay-bill-an-outline
---

On June 26, 2017: "The NJ Task Force on Campus Sexual Assault released its report Addressing Campus Sexual Violence: Creating Safer Higher Education Communities in a press conference with Task Force bill co-sponsors Assemblywoman Valerie Vainieri Huttle and New Jersey State Senator Sandra B. Cunningham as well as Task Force co-chair Patricia Teffenhart of New Jersey Coalition Against Sexual Assault and Task Force member Dr. Sarah McMahon of Center on Violence Against Women and Children. The 12-member Task Force also includes our CEO Helen Archontou along with members from state government agencies, Rutgers University—Newark, Drew University, Montclair State University, County College of Morris, AAUW of New Jersey, and Bramnick Law.
Read the report here… – YMCA Bergen County

---
(2016)
---
First Tween Tech (January 8, 2016) was a hugh success!
A DAY OF HANDS-ON TECHNOLOGY WORKSHOPS
FOR MIDDLE SCHOOL (6th-8th GRADE) GIRLS
---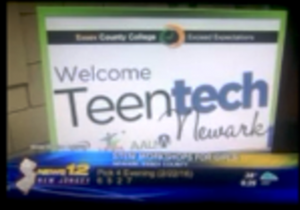 AAUW NJ thanks Essex County College for hosting Teentech. The staff were great at getting things done. AAUW NJ also thanks Educational Testing Service (ETS), of Princeton NJ, for their sponsorship of this event, and all our volunteers who helped make the day a success:  Ivonne Diaz-Claisse, President & CEO of Hispanics Inspiring Students' Performance and Achievement (HISPA), who provided a keynote address; our AAUW NJ Northern District Members and volunteers from the community, who helped with logistics; and the many staff and student volunteers from the college.
The day was a great success with 160 students and 20 educators from nine Newark high schools attending. The day was filled with hands-on workshops ranging from examining humanoid patients, to building rockets.
---
Wednesday, February 17, 2016
US Representative Norcross Fights for Gender Pay Equity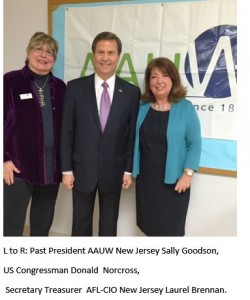 The Fight for Fair Pay for Women
Rep. Norcross: "It's Time to End this Kind of Discrimination"
AAUW has a long history of lobbying Congress; holding our legislators accountable for how they vote on AAUW priority issues. Congressman Donald Norcross received a 100% rating from AAUW because of his bill sponsorship and roll call votes in the US House of Representatives on the critical issues that affect lives of women, children, and their families. Norcross supports pay equity; he understands that pay equity is a civil rights issue as well as an economic necessity. AAUW and AAUW NJ sincerely thanks US Congressman Donald Norcross.
Sally Goodson, New Jersey
Cherry Hill, NJ-Rep. Donald Norcross (NJ-01) today joined with South Jersey women, advocates and the Girl Scouts of Central & Southern New Jersey in a united call for gender pay equity. (Read More)
---
AAUW NJ Member Carol Zerbe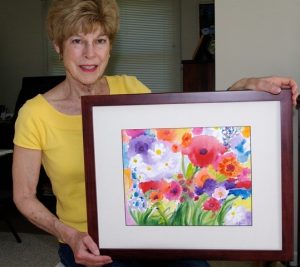 ---
Celebrating Equal Pay Day
April 12, 2016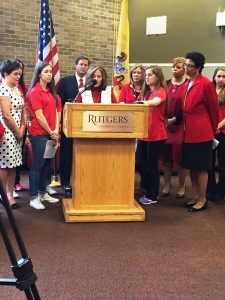 See pictures of our President, Carol Cohen at Rutgers University, Camden Campus with US Representative Norcross, who co-sponsored the Paycheck Fairness Act, Camden Mayor Dana Redd, State Senator Nilsa Cruz-Perez, Camden County Freeholder Carmen Rodriquez, Rutgers-Camden Chancellor Phoebe Haddon, representatives from Rutgers University Women's Soccer Team
Congressman Donald Norcross hosts a press conference marking Equal Pay Day at Rutgers University-Camden, April 12, 2016 (Read More) . See photos from South Jersey Times.
---
"Gender Pay Equity" on the TV
Click Here for more information
AAUW NJ participated in the discussion on "Gender Pay Equity" 
on the TV Show "Another Thing",  
Hosted by Larry Mendte
Aired on Saturday, May 14, 2016 (5:30 pm) and Sunday, May 15, 2016 (9:30 am)
Producers of the show have invited AAUW of New Jersey to participate in a discussion about "Gender Pay Equity," after reading AAUW's report The Simple Truth about the Gender Pay Gap.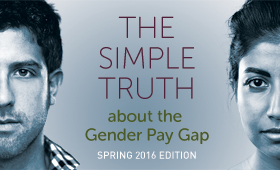 Another Thing, airs in the NY/NJ market on WJLP CH 3 and in the Philadelphia market on KJWP CH 2 on Saturdays at 5:30pm and re-airs on Sundays at 9:30am.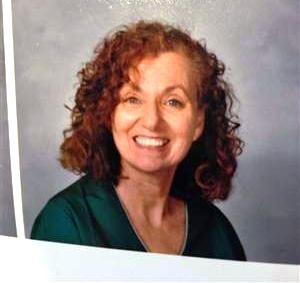 Arlene Newman, Co-VP for Public Policy of the AAUW Northern Monmouth County Branch appeared on this segment of the show! 
"By making women and men more aware of the gender gap and why it exists, we can work together to close it further and level the playing field for women. I am appreciative of the opportunity to discuss this vital issue and the AAUW's research on the program,"   
 Arlene Newman
---
Gender Pay Gap in NJ
(August 2016)
"Excellent input from our amazing members AAUW of New Jersey who fought to get a state equal pay bill passed through the state legislature, only to have Governor Christie veto it."
---

Candace (Candy) Straight, an American Association of University Women (AAUW) member from New Jersey's Nutley Branch and a lifetime resident of Bloomfield, NJ, is an executive producer for an independent film about Wall Street called Equity The Film.
Equity The film was selected as one of sixteen, out of more than 4,000 entries, to premier at the 2016 Sundance Film Festival on January 26th, 2016.


The film centers on a female investment banker whose IPO (initial public offering) is in jeopardy and who must unravel a web of corruption.  Directed by Meera Menon, the film stars Anna Gunn, a two-time Emmy winner for her starring role in "Breaking Bad," Alysia Reiner of "Orange is the New Black," Sarah Megan Thomas of "Backwards" and British actor James Purefoy, who starred in the Fox TV drama "The Following."
The film is produced by Broad Street Pictures, which was founded by Reiner and Thomas to produce movies with strong female roles both in front and behind the camera.
See the Equity The Film Facebook Page
Candy shared with us that EQUITY The  Film has been sold to Sonny Picture Classics,  with james Purefoy and David Alan Basche, associate producer/actor.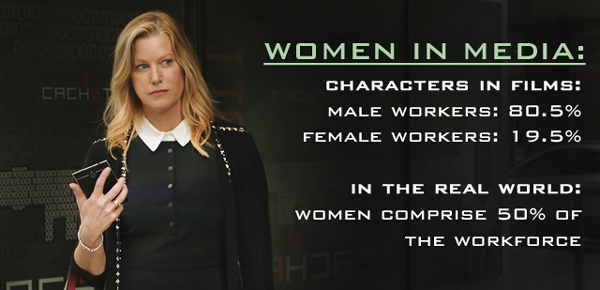 ---

New Jersey Capitol Report with Steve Adubato & Rafael Pi Roman: Keri Logosso-Misurell; Preston Pinkett; Carol Cohen
Preston Pinkett III, chairman and CEO of City National Bank, one of the pioneer financial institutions founded and run by minorities, talks to Steve Adubato about balancing the need to make a profit but also keeping true to the original mission of serving minority clientele. Steve Adubato goes One-on-One with Keri Logosso-Misurell, Esq., director of the Greater Newark Healthcare Coalition about how her organization is trying to engage university faculty and researchers and community-based advocates to reduce adverse traumatic experiences in urban areas. Carol Cohen, President, American Association of University Women NJ talks about the wage gap that exists between men and women in the state of New Jersey as well as how her organization teaches the younger generation to negotiate fair salaries for their future careers
---
(2015)
---
First Hoboken Junior Senior High School – Women in Leadership Empowerment Forum – November 19, 2015
In conjunction with AAUW of New Jersey
---
New Jersey State Task Force on Campus Sexual Assault
Please join AAUW of New Jersey in congratulating Virginia Lyttle on her formal appointment to the New Jersey State Task Force on Campus Sexual Assault.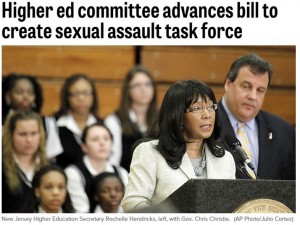 The Task Force on Campus Sexual Assault legislation (S-2812) was passed by the New Jersey State Assembly and Senate in the fall of 2015 and signed by the Governor in early December 2015. Our Legislative Watch Committee (Sally Goodson & Adrienne Lesser) lobbied for passage of this legislative action since February 5, 2015.
AAUWNJ formally requested a seat on the New Jersey State Task Force on Campus Sexual Assault.  Virginia (Ginny) Lyttle was our AAUW appointment nominee.  (Read More)
---