---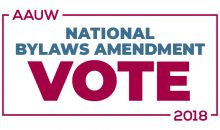 The AAUW National Board of Directors has voted to put three proposals for bylaws amendments before the membership for a vote this spring. The board strongly supports the proposed amendments that we believe will help keep AAUW vital as an organization and enable us to increase our impact in advancing equity for women and girls.
Here are the key dates for AAUW's 2018 bylaws amendment vote:
| | |
| --- | --- |
| February 22, 2018 | Comment period opens online for members to propose amendments to the AAUW Bylaws and propose resolutions |
| March 22, 2018 | Proposal period closes at 11:59 p.m. ET |
| April 16, 2018 | Opening date to request paper ballot |
| Mid-April 2018 | Bylaws proposals and resolutions published in the spring AAUW Outlook; voter PINs emailed to members and mailed with the spring AAUW Outlook magazine to members without registered email addresses and those that have requested to receive Outlook in the mail |
| April 25, 2018 | Voting begins online |
| May 7, 2018 | Deadline for AAUW to receive request for paper ballot |
| May 21, 2018 | Deadline for mailing paper ballot; ballot must be postmarked by 11:59 p.m. ET to be counted |
| June 9, 2018 | Online voting ends at 9 p.m. ET |
| June 10, 2018 | Vote results announced online |
---
 Every year AAUW members cast their vote on the final candidates to be featured in the spring collection of note cards.
Showcase your talent by entering this exciting annual art competition. The six winning entries will be featured in a collection of note cards mailed to AAUW members in the spring.
Submission Period – January 4 – February 4, 2018
Voting period – February 5 – March 4, 2018
Winner announcement – Late March 2018
Find out more about this year's art contest.
---
Every year AAUW selects 10 college student leaders committed to gender equity to serve on the national Student Advisory Council (SAC). These students advise AAUW on the needs of college students, take on campus activism projects and community outreach to AAUW student organizations, and gain valuable résumé-building experience. Participants also serve as peer mentors for other aspiring student leaders during AAUW's annual National Conference for College Women Student Leaders (NCCWSL).
Who are these remarkable feminist student leaders? This year's SAC members are LGBT rights leaders, engineers, student government presidents, first-generation college students, and more.
---
It was a hot June day in 1989 when hundreds of AAUW members braved the heat and flooded the halls of Capitol Hill. They were there to tell members of Congress why the United States needed a paid family leave program. 28 years later, we're at it again! Read more.
---
AAUW has a long and distinguished history of advancing educational and professional opportunities for women in the United States and around the globe. Follow in the footsteps of award-winning authors, scientists, scholars, and change makers. Learn More!
---
Join Two-Minute Activist Mobile today!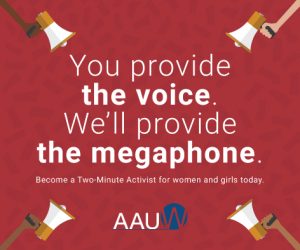 Are you ready to take your advocacy to the next level? Opt in to AAUW's Two-Minute Activist Mobile. This exciting new tool will allow AAUW to send more timely and targeted communication straight to your cell phone via text message. That means we can provide you with more strategic opportunities to take action when your advocacy can make the difference. Sign up online or text the word "AAUW" to phone number 21333 now to join.
---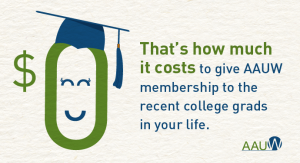 Do you know any new college graduates? What better gift can you give than a FREE one-year AAUW membership! As an AAUW member you have the power to gift ANY number of free one-year AAUW memberships to recent college graduates. Give one, give 100, or give 1,000! Don't let this opportunity pass you by.  Read more.
---
---