---
State Conventions Update: This Is Your Moment
If you couldn't make it to your state AAUW convention this year, this video presentation from AAUW CEO Kim Churches will bring you up to speed. It highlights three immediate actions you can take to help women achieve economic security:
Take the Work Smart negotiation course and spread the word. "We're so proud of Work Smart Online, a training tool we created with funding from the Coca-Cola Foundation and other important partners," says Churches.
Advocate for our policy initiatives. Help us support federal legislation like the Paycheck Fairness Act or speak out for fair pay laws in your state or community.
Support our greatest-needs fund. "To stay at the forefront of national conversations and policies, we must be able to access funds immediately, without restrictions or delays," says Churches. But we can't do it without gifts that can be used where they're most needed.
---

Voting closed at 6:00 p.m. ET on May 14. 
---
Every year AAUW members cast their vote on the final candidates to be featured in the spring collection of note cards. This year, AAUW gave special preference to submissions that reflect our mission and values.
See the 2019 Art Contest entries!
Past Winners
See Past Winners (Prior to 2019)
---
Every year AAUW selects 10 college student leaders committed to gender equity to serve on the national Student Advisory Council (SAC). These students advise AAUW on the needs of college students, take on campus activism projects and community outreach to AAUW student organizations, and gain valuable résumé-building experience. Participants also serve as peer mentors for other aspiring student leaders during AAUW's annual National Conference for College Women Student Leaders (NCCWSL).Who are these remarkable feminist student leaders? This year's SAC members are LGBT rights leaders, engineers, student government presidents, first-generation college students, and more.Read More
---
AAUW has a long and distinguished history of advancing educational and professional opportunities for women in the United States and around the globe. Follow in the footsteps of award-winning authors, scientists, scholars, and change makers. Learn More!

---
Join Two-Minute Activist Mobile today!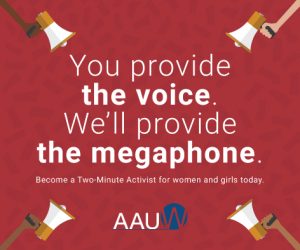 Are you ready to take your advocacy to the next level? Opt in to AAUW's Two-Minute Activist Mobile. This exciting new tool will allow AAUW to send more timely and targeted communication straight to your cell phone via text message. That means we can provide you with more strategic opportunities to take action when your advocacy can make the difference. Sign up online or text the word "AAUW" to phone number 21333 now to join.
---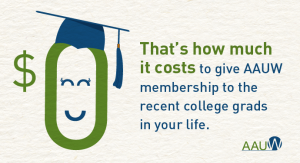 Do you know any new college graduates? What better gift can you give than a FREE one-year AAUW membership! As an AAUW member you have the power to gift ANY number of free one-year AAUW memberships to recent college graduates. Give one, give 100, or give 1,000! Don't let this opportunity pass you by.  Read more.