---

Calling all AAUW Artists:
It's that time of year again! AAUW's 12th annual art contest opens January 6, and your work could be among the winning entries.
To enter, submit your photography or a digital photo of your painting, drawing, sculpture, collage or other form of art through the AAUW website. All entries are accepted, but we encourage you to look through your portfolio for works that speak to AAUW's mission.
AAUW members will select their favorite entries via ranked-choice voting. Winning entries will be featured on a collection of notecards sent to members in the spring. The back of the cards will include the winning artist's biography, a fact about AAUW and a highlight of their local branch affiliation when applicable.
This year's winners could include someone from your branch or state, so spread the word through your member communications!
For more information on submitting artwork or to see last year's art gallery, please visit the AAUW Art Contest page .
We hope to see your work in this year's contest!
Best,
Tremayne A. Parquet,
Deputy Director of Advancement & Partnerships
---
---
The following is a statement from AAUW CEO Kimberly Churches
AAUW joins the country in mourning the losses of George Floyd, Ahmaud Arbery, Breonna Taylor and countless other people of color who have been unjustly killed across our nation. Our country needs healing. But healing will only come with justice. As an organization we condemn racism.
Systemic racism is firmly rooted in the U.S. and today's injustices mirror our shameful history — from police brutality to the disproportionate impact of COVID-19 on communities of color. There can be no justice or equality when Black and Brown communities are seen as less deserving of basic human and civil rights.
On behalf of our 170,000 members and supporters, we commit to fighting for justice, long-term and lasting change, and we stand in solidarity against racism. We also acknowledge that as an organization we have our own work to do.
And, as a member of the Leadership Conference on Civil and Human Rights, we will work to advance the policies and systemic changes identified in the New Era of Public Safety: A Guide to Fair, Safe, and Effective Community Policing and Vision for Justice platform.
---
Every year AAUW members cast their vote on the final candidates to be featured in the spring collection of note cards. This year, AAUW gave special preference to submissions that reflect our mission and values.
---
Kim Churches talking about National Election Voting
---
AAUW has a long and distinguished history of advancing educational and professional opportunities for women in the United States and around the globe. Follow in the footsteps of award-winning authors, scientists, scholars, and change makers. Learn More!

---
Join Two-Minute Activist Mobile today!
or text "AAUW" to 21333 to get AAUW action alerts via text.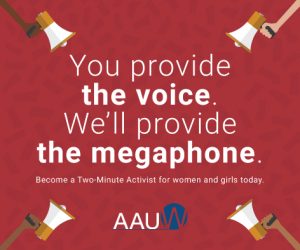 Are you ready to take your advocacy to the next level? Opt in to AAUW's Two-Minute Activist Mobile. This exciting new tool will allow AAUW to send more timely and targeted communication straight to your cell phone via text message. That means we can provide you with more strategic opportunities to take action when your advocacy can make the difference.
---