Click here to see Upcoming Events
2022 Events
January 18 – AAUW NJ Advocacy Discussion with League of Women Voters of NJ
February 28 –  Northern Monmouth County Branch  Suffragists Speak 
March 2 – Camden County Branch  Author Talk: You Just Can't Be Afraid – 7 Lessons from Historic Women
March 10 – Madison Branch & Summit College Club Branches Film Screening and Meet the Director: Without a Whisper – Konnon:kwe
March 23, 2022 –

AAUW NJ Central District Interbranch Meeting (Hosted by the Northern

Monmouth County Branch)  A look at the Life and Legacy of Geraldine Thompson
April 2, 2022 – Burlington County Branch Book & Author's Breakfast 11:00AM
May 5, 2022 – AAUW NJ Make Your Vote Count  Presenter: Lynn Caterson, AAUW member, Attorney & Chair of the Atlantic County Board of Elections
June 4, 2022 – AAUW NJ Annual Meeting & Leadership Conference
June 15 National Webinar: Exploring Tough Policy Issues through an AAUW Lens:
Title IX and Transgender Student Rights 3:00PM
 June 23 National Webinar: AAUW is Celebrating 50 Years of Title IX
July 24 – 30 Atlantic County Branch & Cape May County Branch – STEMinist Camp
August 26 Women's Equality Day

August 27 AAUW NJ  Information Table at  Alice Paul Institute Women's Equality Day Summer Festival, Mt. Laurel, NJ 10AM- 5:00PM

October 29, 2022 AAUW NJ Fall Focus

 Forsgate Country Club,

Monroe Township 8:30AM – 2:30PM

November 15, 2022 AAUW NJ & Burlington County Branch – DEI: Strategies of Effective Bystander Intervention 7:00PM Click here to view program.
November 19, 2022 Summit College Club Branch – Shirley Chisholm's 50 Year Legacy   2:00PM  The discussion will be led by AAUW member Janice Harris Jackson.
2021 Events
2020 Events
---
2021 EVENTS
---
January 11, 2021
---
January 17, 2021
AAUW and LWV sponsor Screening and Discussion
 Documentary John Lewis: Good Trouble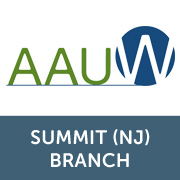 The documentary film John Lewis: Good Trouble was streamed online for 48 hours in mid January. Then on Sunday January 17, 2021, at 2:00 P.M. there was a Zoom for a discussion of the film. The League of Women Voters of Berkeley Heights, New Providence, and Summit, the League of Women Voters of Plainfield, and the Summit College Club Branch of the American Association of University Women partnered in presenting this film and discussion in celebration of Martin Luther King, Jr. Day of Service.
Summit AAUW President Hedy Tukey and LWV member Jean Crichton led the discussion.
---
January 19, 2021
AAUW Work Smart for Professional Women's Group of Dress for Success
6:30 – 8:30 PM, via Zoom
On January 19th, Jackie McGuinness and Karen Brown presented an overview of AAUW's Work Smart Online Program for Salary Negotiation to approximately 35 attendees of the Dress for Success Organization of Northern, NJ as part of AAUW NJ's equity mission. Dress for Success is a nonprofit organization that empowers women to achieve economic independence by providing a network of support, professional attire and the development tools to help women thrive in work and in life.
The key points that were driven home: Know your facts! Know your value! Know your salary! Know your strategy! We also went over how to handle certain questions during an interview or salary negotiation. The program was well received by the attendees and we anticipate that these women will sign up for the online program.

AAUW Work Smart Online will give you the confidence and skills to successfully negotiate your salary and benefits. Help empower the women in your life to negotiate for fair and equal pay by directing them to salary.aauw.org to register for this course.
---
January 30, 2021
Zoom Training!
Tips & tricks for running Zoom meetings
10:00 – 11:00 AM
On January 30th, AAUW NJ members upped their Zoom game…
We were fortunate to have Lauren Muccilli from Douglass College, Rutgers University, help us learn to host and run Zoom meetings. Over thirty members attended this session, helping us move into a more connected age.
Topics covered included: setting up registration, creating breakout rooms and polls, and more.
---
Monday, February 1 – 7:00 PM – Via Zoom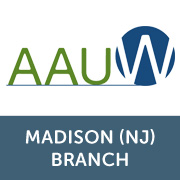 AAUW Madison Branch Program
Topic:  Title IX:  Present and Future
Speakers:  Emily Ralph, J.D. & LMSW & Dr. Brooke Mascagni*
---
Thursday, February 11, 2021
AAUW National:
Creating a Diversity Structure and Planning for Success 
(Part 1)
3 – 4:30 PM ET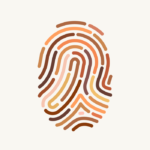 Walking us through the DEI Toolkit and related resources, AAUW's Inclusion and Equity Committee will highlight the process for beginning to engage your branch in the conversation and creating an effective diversity and inclusion plan. We will also feature a discussion with Linda J. Carpenter, PhD, co-chair of the Diversity Committee of AAUW's Lake / Sumter (FL) branch, to discuss their experience with the diversity planning process and to share some practical insights for branches looking to undertake this process for themselves.
---
Saturday, February 27, 2021
AAUW NJ Program
Doing the Work: Diversity, Equity and Inclusion (Part 2) – 10 – 1:30 AM ET
Led by Jackie McGuinness and Edwina Sessons
AAUW Difficult Conversations 2_27_21 Presentation
This session was a conversation among AAUW NJ members, getting together to discuss and plan for actions we can take to help AAUW NJ become more inclusive. This topic was also one of the clear outcomes of our December Un-conference, and this session will forward the work begun there.
---
Tuesday, March 2, 2021 at 7:30PM – Via Zoom
Co-sponsored by Madison and Summit Branches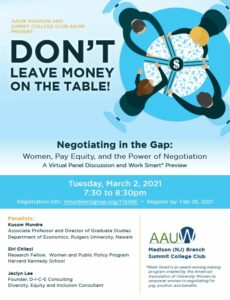 Topic:  Negotiating in the Gap
Panelists:
Kusum Mundra, PhD
Associate Professor and Director of Graduate Studies
Department of Economics, Rutgers University, Newark
Siri Chilazi
Research Fellow, Women and Public Policy
Harvard Kennedy School
Jaclyn Lee, Founder
D-I-C-E Consulting and iHub
---
Tuesday, March 16, 2021
Meeting was cancelled due to Speaker availability!
Central District Inter-Branch Program
Hosted By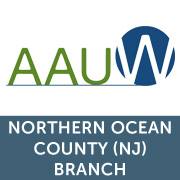 Northern Ocean County Branch (NOCB)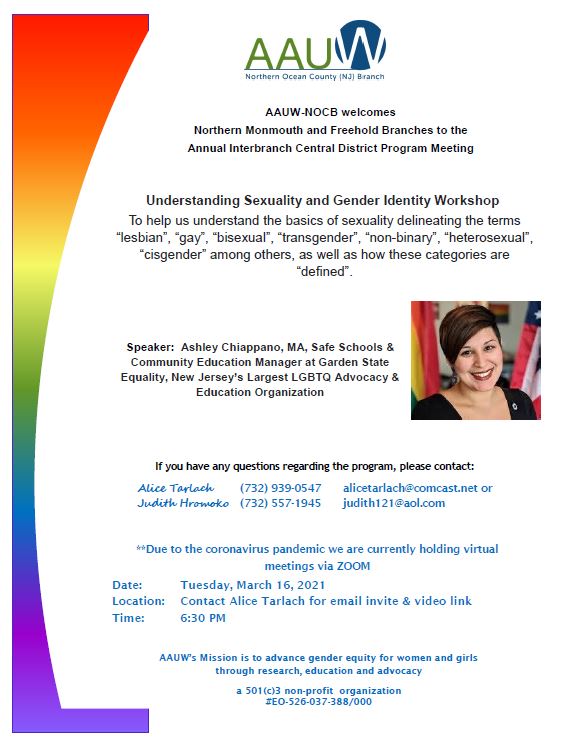 ---
Wednesday, March 10th, 6:30 pm
AAUW NJ Town Hall on Open Membership
Should AAUW membership be open to anyone who supports our mission? What advantages do we expect to achieve by opening AAUW membership to all? Is there any downside to the change? How would the change be implemented?
Members had the opportunity to discuss their views in small groups and provide feedback to state and national leaders.
---
Tuesday, March 16, 2021
Meeting was cancelled due to Speaker availability!
Central District Inter-Branch Program
Hosted By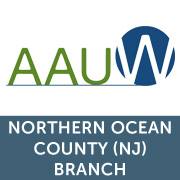 Northern Ocean County Branch (NOCB)
---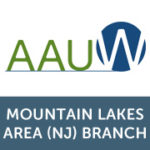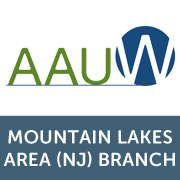 Thursday, March 25, 2021
7:30 PM via Zoom
Join the Mountain Lakes Area Branch for Cocktails & Conversation
Exploring Our Whiteness
Whiteness is meant to be invisible to white people. In this interactive presentation, we will reflect on Whiteness. In addition, we will discuss how characteristics of Whiteness show up in our world, on individual and systemic levels, with the goal of challenging racism by de-centering Whiteness.
Adena Cytron-Walker led us in the conversation. She is the Vice President of Programing for the Multicultural Alliance of Fort Worth Texas. MCA is an organization that builds inclusive communities through educational opportunity and shared experiences. Adena offers workshops and presentations on a wide variety of diver

---
Saturday, April 17, 2021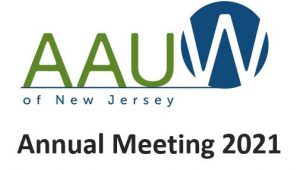 9:45 – 11:30 AM
Click her for additional information about voting that occurred at the meeting!
AGENDA
9:45 AM – Assembly
10:00 AM Welcome
Registration and Attendance Report
Call to Order
Reports from The Board of Directors

Membership – Rebecca (Becky) Hughes

Finance – Rebecca (Becky) Hughes

Communications – Mariel Kolker
Public Policy – Keturah Harris
Program – Jacqueline McGuinness
Diversity – Edwina Sessons
AAUW Funds – Nina Del Collo

Report from Bylaws Committee*
Report from the Charitable Trust
Recognition of Branch Achievements
Report from the Advancement Committee
Election of Directors for 2021-2023**
Looking to the Future
Adjourn Business Meeting
11:15 AM Wrap Up Questions and Comments
VISION PROPOSAL (Vote by Zoom Poll)
** CANDIDATES FOR DIRECTORS
---
Wednesday April 21 • 7pm
Atlantic County Branch invites you to…
Climate Change Impacts in New Jersey and What We're Doing About It
Learn how the NJ Climate Change Alliance, a network of diverse organizations, shares the goal of advancing non-partisan, evidence-based climate strategies for the purpose of outlining policy options for NJ communities.
A panel of New Jersey conservation experts, moderated by Virginia Rettig, Refuge Manager of Edwin B. Forsythe National Wildlife Refuge, will discuss the latest research related to climate changes that impact NJ's coastal communities and habitats.
A Q&A session will follow the panel discussion. To register, please email Kris Baker before April 15th
---
Saturday, May 8, 2021- 10 AM
Build Our AAUW NJ Network
We connected members with similar interests and passions to share ideas and leverage opportunities to engage our membership.
Breakout rooms:
Encouraging Women in STEM
Public Policy Advocacy
Supporting Working Women
Fundraising
Member Engagement
Brainstormed about, "How can AAUW be more visible in everything we do?"
Let's take AAUW to the next level!
---
Saturday, May 22, 2021 – 10 AM
Post Pandemic Outlook for Working Women in NJ
Panel Discussion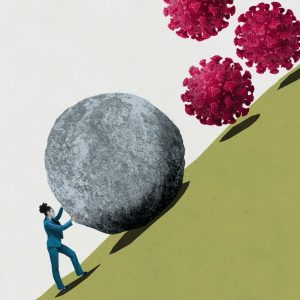 As the pandemic recovery advances, how will working women be affected? According to Barons, The Economic Recovery Depends on Getting Women Back to Work, "Women have borne the brunt of the Covid recession, accounting for 55% of net U.S. job losses since February 2020." Image Source: WSJ
This panel discussion will bring to light some of the issues that working women in New Jersey will face now that the state is starting to reopen.
Featured Panelists:
Debra Lancaster
Executive Director, Center of Women & Work, Rutgers University
Rebecca Perrone
Township Council, Willingboro
Keturah Harris, Ed.D
Educator, Burlington County Institute of Technology
Elaine Ingulli
Program Committee, South Jersey NOW, Alice Paul Chapter
Kim Iozzi
Executive Director, Dress for Success Northern NJ
Farheen Choudhary
Chair, DEI Committee, Princeton Mercer Regional Chamber of Commerce
Moderated by Jacqueline McGuinness, Program VP AAUW NJ
---
Saturday, June 5, 2021
10:00 AM
Leadership Workshop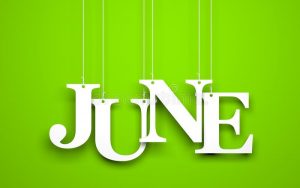 Image source: https://www.dreamstime.com/
Counterparts from other branches and the state board met to share your tools-of-the-trade and tips for success. Branch and state officers met and had breakout sessions by role. Breakout rooms were created based on the positions of those who registered.
---
Saturday, September 11
11:00 AM
AAUW of New Jersey Goes to Allaire State Park
(Coordinated by Central, Northern, and Southern Districts)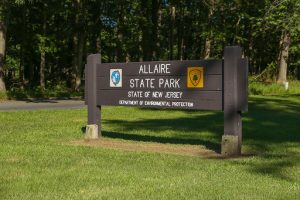 Cost of $40.00 included:
Open Car Antique Steam Train Ride in Park
Picnic Area Individual Lunch from Jersey Mikes
Picnic Tables available or bring your own folding chairs
At your leisure tour Open Flea Market (creative vendors)
Historic Village (tour at leisure)
A portion of the registration fee was given as a donation to the AAUW National Greater Needs Fund.
---
2020 EVENTS
---
Sunday, March 1, 2020
2:00 PM  –  3:30 PM
Suffragists Speak: The Fierce and Flawed Battle for the Vote 
Location: Eastern Branch of Monmouth County Library (1001 NJ Rt. 35 Shrewsbury)
Co-sponsored by Monmouth County Branches of AAUW, LWV, T Thomas Fortune, and Monmouth County Library Eastern Branch.
 Contact: 732-683-8980
Join us for this living history program "Suffragists Speak: The Fierce and Flawed Battle for the Vote." The AAUW, League of Women Voters, and T. Thomas Fortune Cultural Center have partnered with the Monmouth County Library to present the story of the battle for the vote, with particular focus on the experience of African American women.
Living history interpreters bring the words of five women and one man to life. Susan B. Anthony and Frederick Douglass reveal the strain on their friendship that followed passage of the 15th Amendment. Carrie Chapman Catt, Alice Paul and Ida B. Wells take us to the passage of the 19th Amendment in 1920. Their dialogue explores the racial tensions that continued to test the moral compass of the movement. Finally, Fannie Lou Hamer carries the story through the 1965 Voting Rights Act.
Come celebrate the centennial of women's suffrage and consider the sacrifices and compromises made in the name of victory.
Please contact Patricia Baroska AAUW-NJ Central District Coordinator, College/University Coordinator, if you plan to attend and would like to  join some of us for a nearby Brunch (12:00 PM) at Mollie Pitcher Inn in Red Bank.  The Brunch price is $44.95 and is located at 88 Riverside Ave. Red Bank. 
---
 June 13, 2020
10:30 – 11:30 AM Eastern Time (US and Canada) 
Via Zoom!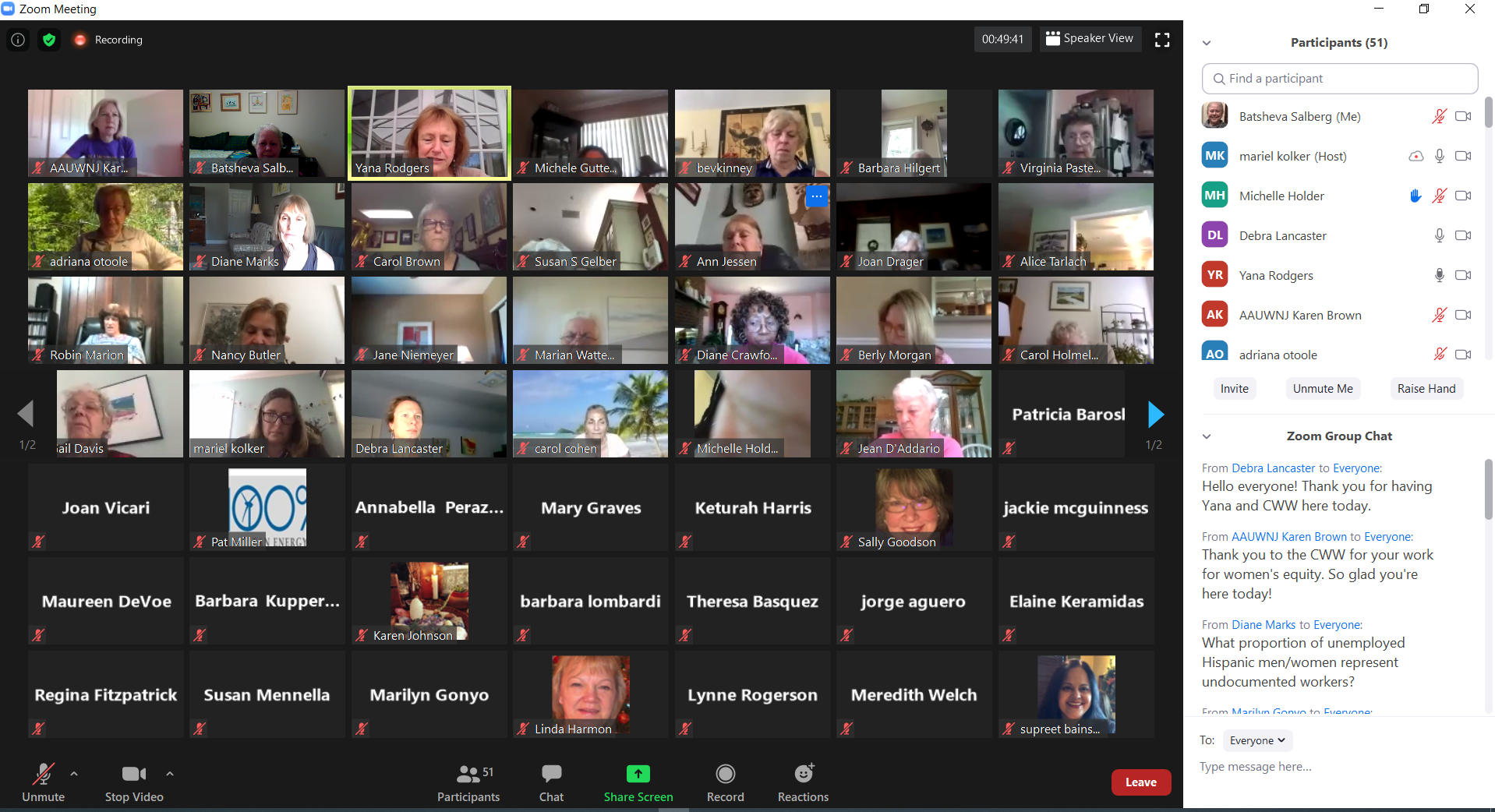 Yana Rodgers, PhD (Economics), Professor at Rutgers Center for Women and Work,
presented:
"A Feminist Perspective on COVID‐19 and the Value of Care Work" 
Free presentation with panel discussion: How women's economic security and pay equity issues have been brought to the forefront by the COVID-19 pandemic.

Yana Rodgers is a Professor in the Department of Labor Studies and Employment Relations, and in the Department of Women's, Gender, & Sexuality Studies at Rutgers University.  She also serves as Director of the Center for Women and Work at Rutgers.
Summary:  COVID‐19 has exposed the foundational role of care work, both paid and unpaid, to functioning societies and economies. Women's physical and mental health, and the societies that rely on them, are at stake. The field of feminist economics has valuable lessons for mitigating hardships as governments formulate policy packages in response to the crisis. Such policies must recognize care work as an integral part of the economic system that promotes human well‐being for all.
If you would like to read the related article recently published in "Gender, Work & Organization" by Kate Bahn, Jennifer Cohen, and Yana van der Meulen Rodgers, "A feminist perspective on COVID‐19 and the value of care work globally," here's the link:
https://onlinelibrary.wiley.com/doi/10.1111/gwao.12459
---
June 27, 2020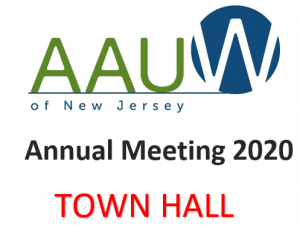 10:30 – 11:30 AM Eastern Time (US and Canada) 
Via Zoom!
A town hall meeting of the members of AAUW NJ to connect and share accomplishments from the past year and look forward to the year to come.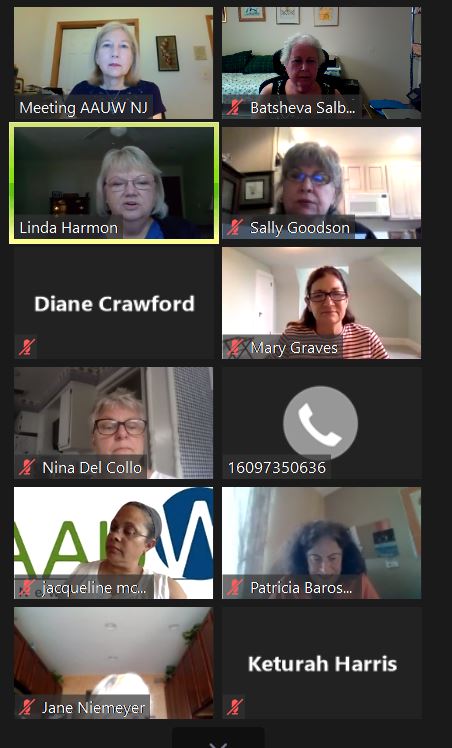 Agenda
Welcome –

Karen Brown, President

Branch Anniversaries/Milestone Recognition & Membership Report

– Shevi Salberg

Financial  Report

– Becky Hughes

AAUW Funds Report

– Jane Niemeyer

Election of Directors –

Zoom Poll

– Mary Graves 

Swearing in of the Board

– Sally Goodson

Charitable Trust Report

– Mary

State Project & Program Reports

 

Fall Focus

– Keturah Harris/Jackie McGuinness

Tech Trek and Tween Tech

– Linda Harmon

Feminist Perspective on COVID-19

– Karen 

Branch & Inter-Branch Projects 

Northern District

– Diane Crawford

Central District

– Pat Baroska    

Southern District

– Linda Harmon        

Looking to the Future –

Karen Brown

Questions & Comments
---
Oct 10, 2020 – 10:00 – 11:30 AM
Fall Focus – "Let's Get Engaged"
W

oman As Agent of Change Presentation – F

eaturing 2020 AAUW NJ Woman As Agent of Change Jacquelyn Litt, Ph.D. – Dean, Douglass Residential College and Douglass Campus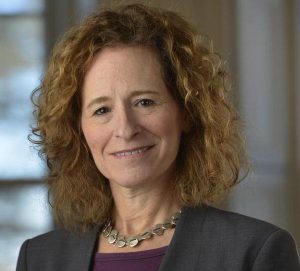 Get-Out-The-Vote Initiative – Vote Smart Locally – presentation by Edwina Sessons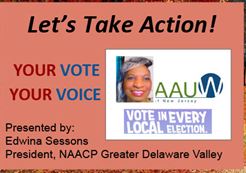 ---
Wednesday, October 14, 2020 – 7:00 PM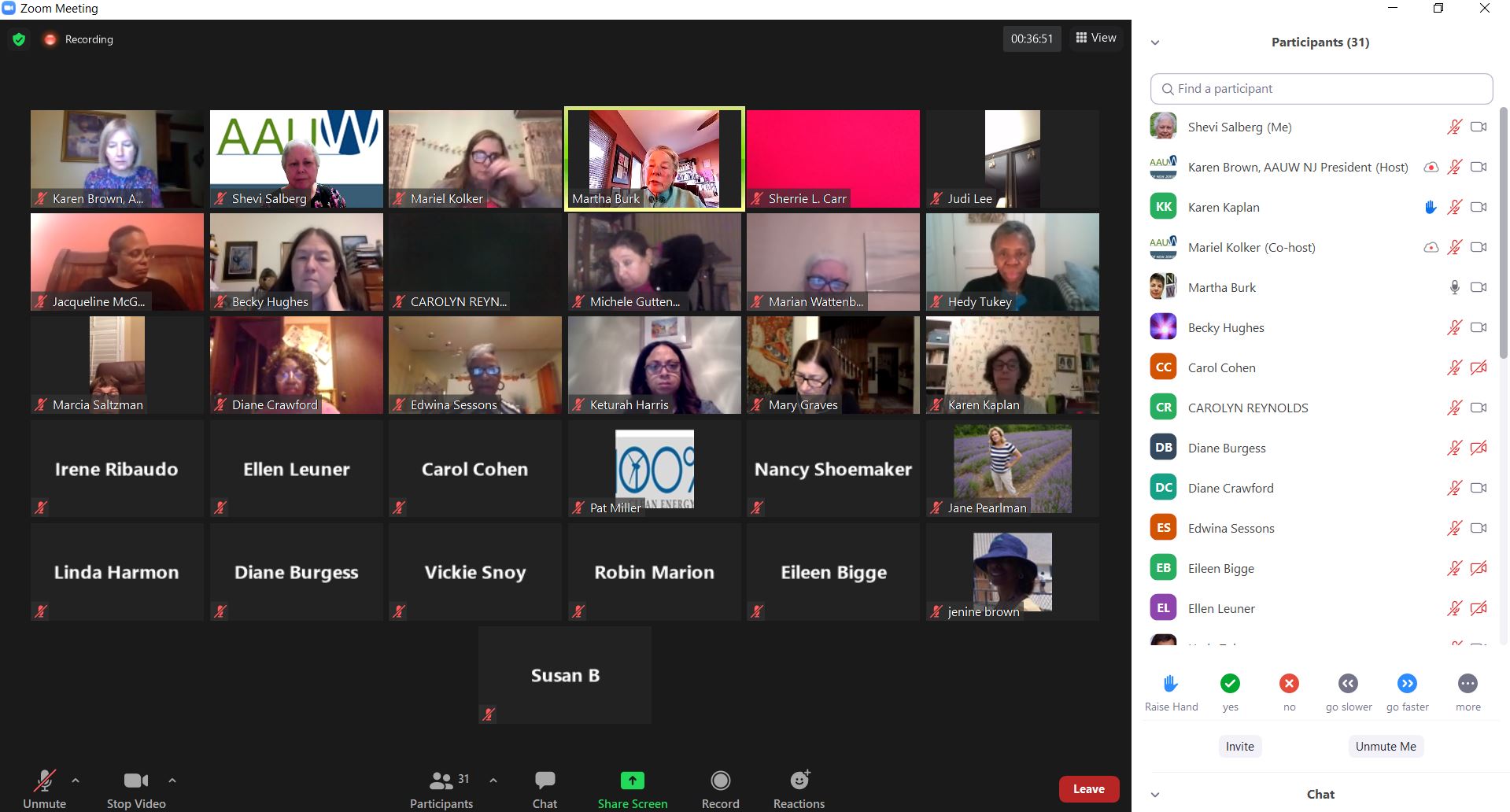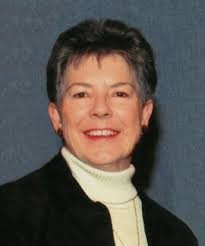 Martha Burk is a political psychologist and women's issues expert who is co-founder of the Center for Advancement of Public Policy, a research and policy analysis organization in Washington, D.C. She serves as the Money Editor for Ms. magazine, and is a syndicated newspaper columnist and frequent blogger for womensvoicesmedia.org. Her public radio show"Equal Time with Martha Burk." originates from KSFR.
---
December 9, 2020
AAUW NJ Unconference
An "unconference" is a meeting where PARTICIANTS set the agenda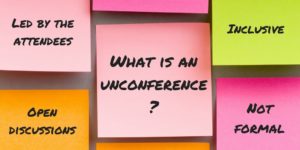 7:00 PM – via Zoom
Members, statewide, joined for a casual chat to exchange ideas their favorite beverage, snack, and wore their favorite UGLY sweater!
---
Sunday, December 20, 2020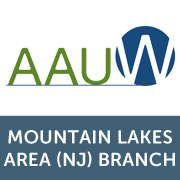 Members had the opportunity to order a wine and cheese snack that was delivered to their homes.  Proceeds went to CAMFED to support girls' education throughout Africa. During the Zoom social, we'll cheer the holidays and share our treasured holiday traditions.