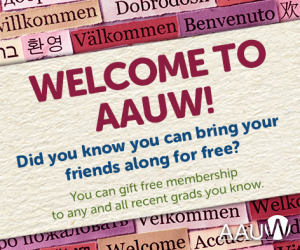 GIve the gift of AAUW membership now
---
---
In honor of Member Appreciation Week, we're proud to premiere our new video on the strength and power of our members. With your help, we will continue to change the climate for women and girls.

Posted by AAUW on Wednesday, November 15, 2017
AAUW, Changing the Climate for Women and Girls
---
AAUW has been empowering women as individuals and as a community since 1881. For more than 130 years, we have worked together as a national grassroots organization to improve the lives of millions of women and their families.
Mission
AAUW advances equity for women and girls through advocacy, education, philanthropy, and research.
Value Promise
By joining AAUW, you belong to a community that breaks through educational and economic barriers so that all women and girls have a fair chance.
Vision Statement
AAUW empowers all women and girls to reach their highest potential.
Diversity Statement
AAUW values and seeks a diverse membership. There shall be no barriers to full participation in this organization on the basis of sex, gender identity, race, creed, age, sexual orientation, national origin, disability, or class.
The organization includes both a section 501(c)(3) public charity, the primary membership organization, and the AAUW Action Fund, a smaller section 501(c)(4) social welfare organization that may engage in limited activities related to member activism and voter education.
Hear the true stories from women and men about the moment when they realized there was still work to be done. View AAUW's Breaking through Barriers Video.
AAUW Issues
AAUW's voice has long influenced legislative debate on critical social issues such as education, sex discrimination, civil rights, reproductive choice, affirmative action, Title IX, welfare reform, vocational education, pay equity, family and medical leave, and health care reform.
AAUW Educational Foundation 
AAUW has a long and distinguished history of advancing educational and professional opportunities for women in the United States and around the globe. Each year AAUW provides millions of dollars in fellowships, grants, and awards for outstanding women around the globe and for community action projects. AAUW also funds pioneering research on women, girls, and education.

AAUW Leadership Programs
Through Leadership programs, women and girls acquire the skills they need to succeed and assume leadership roles in their academic, professional, and personal lives. Programs include Campus Action Projects, the National Conference for College Women Student Leaders in Washington, D.C., the Student Advisory Council, and Elect Her.
Help create change for women and girls in this critical election year. Your gift will support AAUW's fight against unequal representation in business and government, discrimination and harassment in the workplace, the gender pay gap, and more. Make 2016 a year of change for women and girls. Give today.
---
---