Advancing Equity for Women and Girls through
Advocacy, Education, Philanthropy, and Research

AAUW is a non-profit & non-partisan political organization that advocates on public policy issues that affect women. Issue advocacy is not just about AAUW lending its name to an issue, or speaking up on Capitol Hill. Issue advocacy is about AAUW members and all citizens concerned with equity being knowledgeable and aware of the current status of important issues. For example: AAUW lobbied for women's voting rights as early as 1913. AAUW has been empowering women since 1881.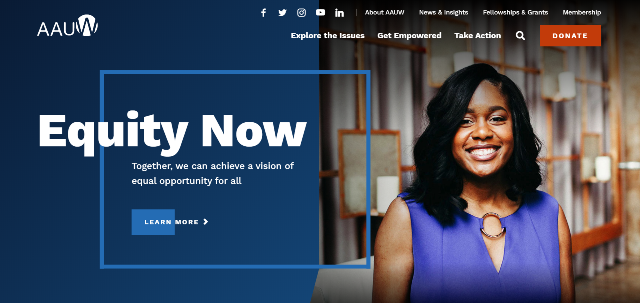 AAUW Action Fund      AAUW in the News    Education & Training    Economic Security    Leadership    Governance & Tools    Sex Discrimination    STEM    Student Debt    Title IX
---
AAUW National Vision & Strategic Plan
---
Diversity Statement
In principle and in practice, AAUW values and seeks an inclusive membership, workforce, leadership team, and board of directors. There shall be no barriers to full participation in this organization on the basis of age, disability, ethnicity, gender, gender identity, geographical location, national origin, race, religious beliefs, sexual orientation, and socioeconomic status.
---
The organization includes both a section 501(c)(3) public charity, the primary membership organization, and the AAUW Action Fund, a smaller section 501(c)(4) social welfare organization that may engage in limited activities related to member activism and voter education.
Hear the true stories from women and men about the moment when they realized there was still work to be done. View AAUW's Breaking through Barriers Video.
---
Since 1881, AAUW has been breaking down barriers for women in education,
---
---
In honor of Member Appreciation Week, we're proud to premiere our new video on the strength and power of our members. With your help, we will continue to change the climate for women and girls.

Posted by AAUW on Wednesday, November 15, 2017
AAUW, Changing the Climate for Women and Girls
---
AAUW NJ Website Pages: